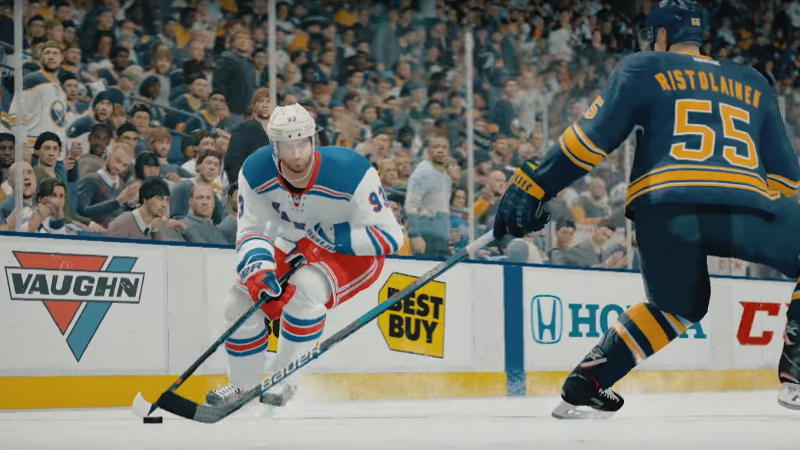 A new survey has been sent out by EA Sports to select customers providing insight on what is being considered for NHL 19 and beyond. These surveys have been distributed for various games in the past and have been shown to reflect ideas that may already be in a stage of development, with the results helping EA determine what makes the final product and what is scrapped or held for future editions. The plan for the arcade mode NHL Threes for instance was first discovered through one of the surveys in 2015 before being introduced in NHL 18.
Areas of focus for NHL 19 could be in the game's presentation, career mode, All-Time teams, Franchise Mode scouting, and player differentiation.
New Broadcast Presentation
Cutting-edge presentation package that gives you more insight and interaction than what's possible on TV that even includes insights into the science of the sport.
The World of Chel
Play and compete with your created player in many modes, either offline or online, competitive, recreational, 3 on 3, free for all and more, where your achievements and progression are linked.
Be a Superstar
Non-linear narrative driven by personal choice and performance for your single Be a Pro player career, with cinematic scenes, compelling stills, narrative audio, text based decisions, and legendary cameos.
Greatest of All-Time Teams
500 NHL legends bring to life the history of the NHL and lets you play with all-time teams, adds legends to your HUT team and unlock them in NHL Threes.
UGC Customization
Tools to create and share your own custom designs for gear, rinks, uniforms, goalie masks and more or browse and select from other players' creations.
Chel Rank
An achievement tracking system that recognizes your accomplishments and rewards you with unlockable player traits, specializations, and aesthetic gear to show off your status.
Scouting
Franchise mode scouting has been overhauled to add a new layer of depth and strategy to scouting. Hire the right scouts, determine their priorities, and evaluate prospects with a wealth of info to make the best choice on draft day.
Real Player Movement Tech
More responsiveness, fluidity, and visual fidelity to skating, shooting, passing, and physics that changes how the game looks, your strategy, and how you play the game.
Real Player Differentiation
Each player type will look, feel, and play differently in every area of the ice, with true differentiation across their skating, shooting, deking, and hitting created by capturing the on-ice performance of actual NHL stars.