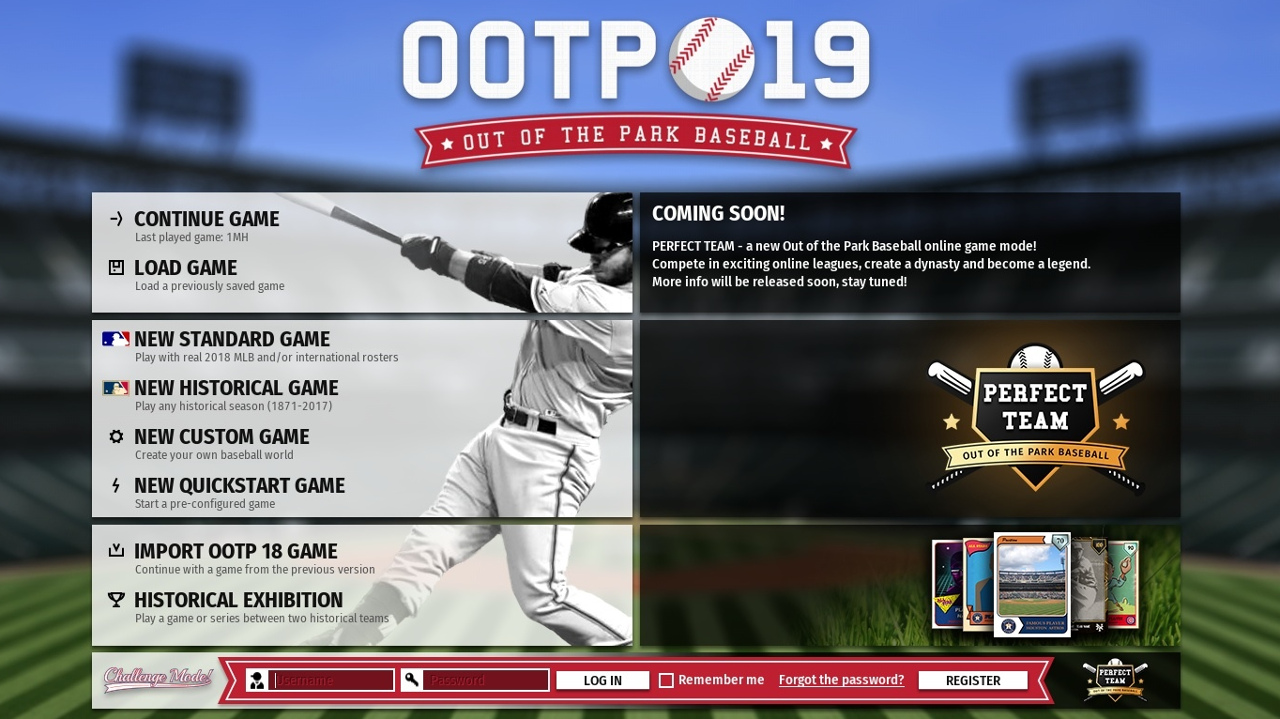 The next edition in the highly esteemed Out of the Park Baseball series was announced today. Releasing on March 22 the game will feature improved 3D presentation, new tournament modes, new scouting system and updated rosters along with an addition of a mode coming in summer known as Perfect Team. It can be pre-ordered now with a 10% discount making it $36 and providing early access to the game beginning on March 19. 
New 3D Players, Ballparks and Game Screen
OOTP's 3D features have taken a big leap in OOTP 19. In addition to greatly improved 3D stadiums, the game features more advanced player models and improved on-field movements for an even better view of the action. Players now run, slide, jump, and throw, and they take more realistic routes to batted balls.
In addition, a reworked in-game screen enhances that "you are there" feeling for a better experience, whether you're actively managing your team or watching the action play out.
2018 Opening Day Rosters
Can the Houston Astros repeat as World Series champs or can the Los Angeles Dodgers make another run at the title? You can answer all those questions and more in OOTP 19.
Our brand new 2018 roster sets include all Opening Day MLB rosters, as well as the complete minor league system down to rookie leagues, including independent leagues. All major league (and over a thousand minor league) player ratings are based on Dan Szymborski's popular ZiPS player projection system. The remaining minor league players are carefully rated by hand by our established research team.
Will Jose Altuve have another historic season? How will the New York Yankees' slugging lineup, led by reigning NL MVP Giancarlo Stanton, perform? Will Max Scherzer win his 3rd Cy Young Award in a row? Can Evan Longoria regain his old form and make the San Francisco Giants a contender? Will the Nolan Arenado-led Colorado Rockies improve on their 2017 Wild Card berth? It' an exciting 2018 MLB season ahead!
In addition, 8 international leagues (Japan, South Korea, Taiwan, Australia, Italy, The Netherlands, Mexico and Cuba) and several international independent leagues return to OOTP 19 with accurate and projected 2018 rosters.
New Scouting System & Updated Scouting Reports
Scouting reports have been completely rewritten, giving you a more detailed look at your players, with a focus on the most important aspects that you care about. Your scouts deliver information in clear and targeted ways customized to your desire.
Ultra-Realistic AI & Ratings
The AI manages rosters and makes in-game decisions better than ever, based on the latest trends in the sport, including double switches, starter and closer usage in the playoffs, trades and much more. It can also now handle unique players, such as those with excellent hitting and pitching abilities. Shohei Otani, anyone?
In addition, the under-the-hood ratings module has been reworked to offer a more realistic and consistent view of players in the league.
New Tournament Modes
Tournaments have been enhanced with two exciting new features: the ability create a standalone tournament bracket, plus the option to draw any teams in history into a tournament. The possibilities are endless! You can also create a special league with games manually scheduled through the regular season – modeling European football with multiple competitions and trophies within a calendar year.
User Voting for End-of-Season Awards
You can now cast a full ballot for all the end-of-season awards, including MVP, the top pitcher and hitter, and other awards. Improved decision-making by the AI can lead to some close races for awards.
Redesigned Interface
We have completely redesigned the interface and switched to a dark color scheme for the default skin. But no worries, we also have a light and a classic skin available. And on top of that, we added the option to select between six different fonts, so you can easily adjust the game interface to match your personal taste.
Much More!
Every year we offer many smaller features, and OOTP 18 is no exception. It includes:
♦800 custom team logos for fictional leagues
♦Improved Manager Home screen, with a more customizable layout and new widget options
♦A new stat – RA9-WAR (WAR based on runs allowed) – for pitchers
♦Delayed substitutions for injured players, so, for example, you won't have to replace your injured pitcher right away if your team is going to bat
♦…and more to be announced prior to release!
♦Finally, we have an exciting new online feature called PERFECT TEAM that we'll unveil this summer, with an open Beta happening this spring. Stay tuned to learn all about it.