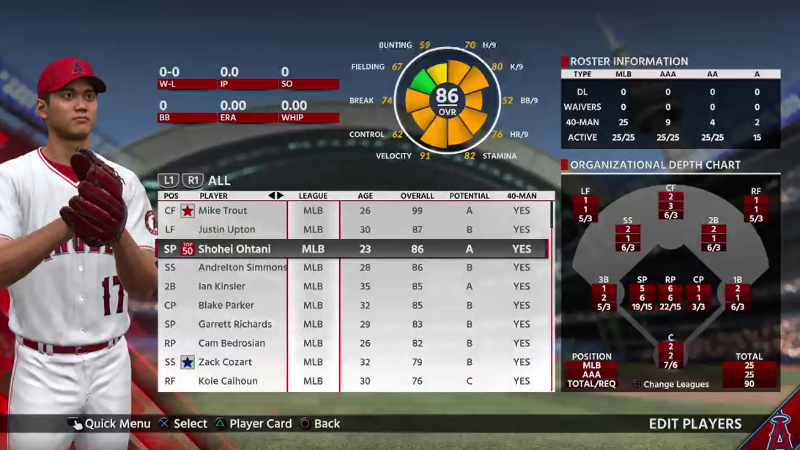 Back in February when Shohei Ohtani made a surprise appearance in a trailer for MLB The Show 18 the obvious conclusion to jump to was that he would be included on the game's shipped roster. Any promotional material with Ohtani would not have been approved by the league unless his rights had been secured in advance. SCEA never commented on his inclusion however leaving fans to wonder not just would he be in the game – avoiding the normal wait until mid-late April that nearly all new rookies suffer from – but also whether he can be utilized in a unique way.
The former has now been answered with certainty while the latter remains in question. Ohtani is in fact included on the default roster for MLB The Show 18 and comes in with a healthy 86 Overall Rating. That ranks him behind only 16 other starting pitchers across the league and puts him at a potential All-Star caliber level. His higher ratings at the plate and defensively likely contribute to that Overall being boosted but it's still a remarkable number for someone who has yet to prove themselves in MLB. 
Ohtani does have the corner outfield spots listed as secondary positions but it is still unclear whether a system has been put into place that will let him play the field or DH on days when he's not pitching. The answer to that may not come until Friday.

Entering the league as one of the most anticipated rookies ever makes it somewhat understandable that he's been rated so highly, but his performance in Spring Training has not backed up the hype and it isn't even a certainty that he'll begin the season on the big league club. Ohtani has an ERA of 27.00 and a WHIP of 4.12 through a couple brief pitching appearances. He's been just as bad at the plate where he has only 2 hits in his first 28 at bats.