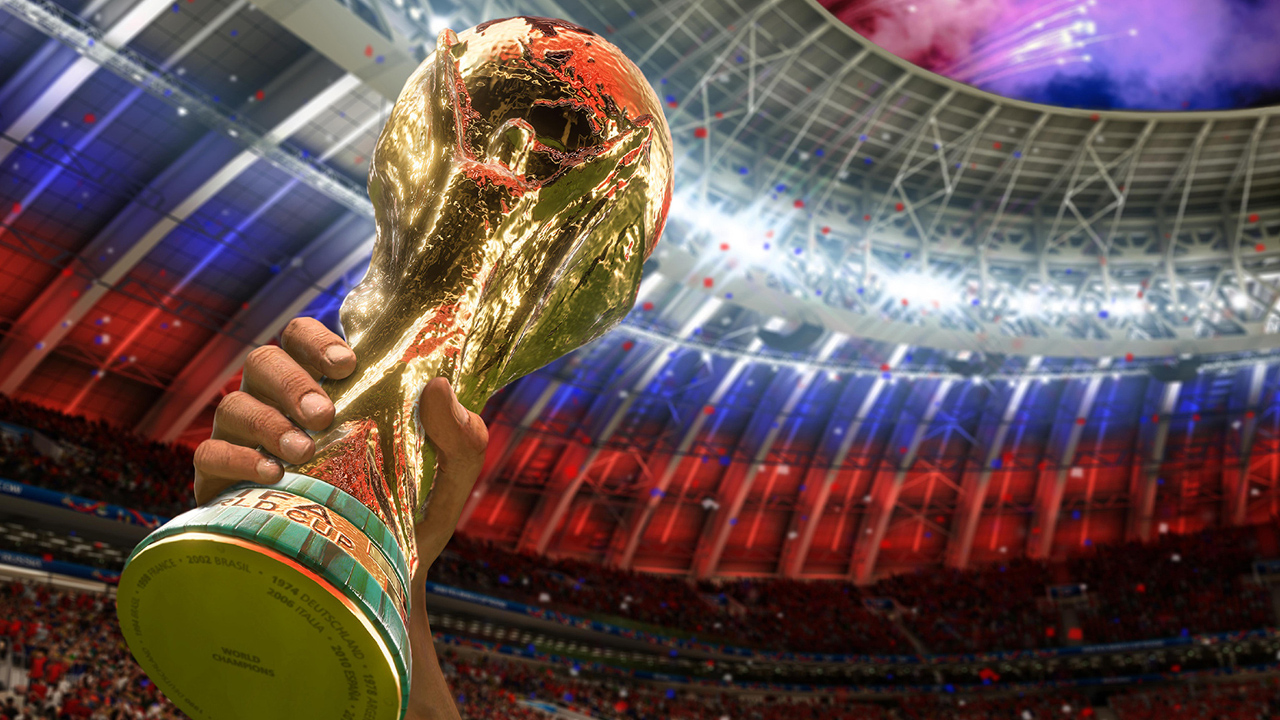 It's been a disappointing few months as the realization slowly sank in that EA Sports wouldn't be releasing a standalone 2018 FIFA World Cup Russia game. Now finally details on the plans for the World Cup have been revealed today with free DLC on the way for FIFA 18 and thankfully it at least has averted the worst case scenario of being content related solely to Ultimate Team.
Coming May 29th (Xbox One, PS4, PC, Switch) the DLC will include the 32 nations that qualified for the tournament plus a few others, an offline customizable tournament mode, all 12 official stadiums, and of extensive course Ultimate Team tie-ins. 
Authentic 2018 FIFA World Cup Russia Experience
Feel the excitement and drama of football's greatest event with the authentic tournament experience, featuring all 32 qualified national teams, match balls, stadiums, and the iconic trophy – rendered in the Frostbite game engine for the first time.
2018 FIFA World Cup Russia
Revel in the epic tournament exactly how it will play out in real life. Choose from any of the 32 qualified nations and play through the authentic tournament structure, from the group stage to the final in Moscow.
Custom FIFA World Cup Tournament
This is your chance to rewrite history and enjoy a custom version of the World Cup with any country in FIFA 18. Select any licensed national team in FIFA 18, including Italy, USA, Netherlands, Chile and more and bring your FIFA World Cup dreams to life by creating your own tournament draw.
FIFA World Cup Kick-Off
Jump into an offline match solo or with friends using official teams, players, kits, and authentic stadium atmospheres from the FIFA World Cup.
Ultimate Team
Play FIFA's most popular mode in the new, exciting FIFA World Cup Ultimate Team experience. Build your dream international squad with stars from all 32 qualified nations with dynamic player items related to the real-world tournament, plus legendary FIFA World Cup ICONS.
Chemistry System: Link your favorite international players; instead of clubs and leagues, nationalities and confederations will be key chemistry components to consider when building and organizing your squad.
Player Pool: Featuring up-to-date squads from every qualified nation with refreshed ratings, [RA1] you'll have everything you need to build your international dream squad.
Dynamic Items: Built to match real world performance, these items will update based on the performances of players who stood out on matchday, with upgraded stats, ensuring a fresh and relevant experience for the entire tournament.
Double Pack Incentives: For every Standard or Premium pack you purchase in FIFA World Cup Ultimate Team, you will receive equivalent pack value in FUT 18.
New game modes: Single Player and Online Tournament, Single Player & Online Draft, Squad Building Challenges.
Stadiums
Saint Petersburg Stadium, Fisht Stadium, Ekaterinburg Arena, Kazan Arena, Nizhny Novgorod Stadium, Rostov Arena, Samara Arena, Mordovia Arena, Volgograd Arena, Spartak Stadium, Kaliningrad Stadium, Luzhniki Stadium
---
From a financial standpoint the move to DLC makes some sense, as even though the World Cup games have always sold extremely well worldwide there is only a small window to do so before interest dies out once the tournament ends. Having an Ultimate Team mode for it wouldn't have been sustainable under those circumstances. Additionally with FIFA 18 free itself through EA Access on Xbox One and Origin Access on PC it's reasonable to expect some new players to jump into FIFA 18 for it. Regardless it's still somewhat deflating to know the full experience including all nations with unique gameplay improvements and richer feature set is now a thing of the past and what acted as a bridge to the FIFA series for new fans is no longer.