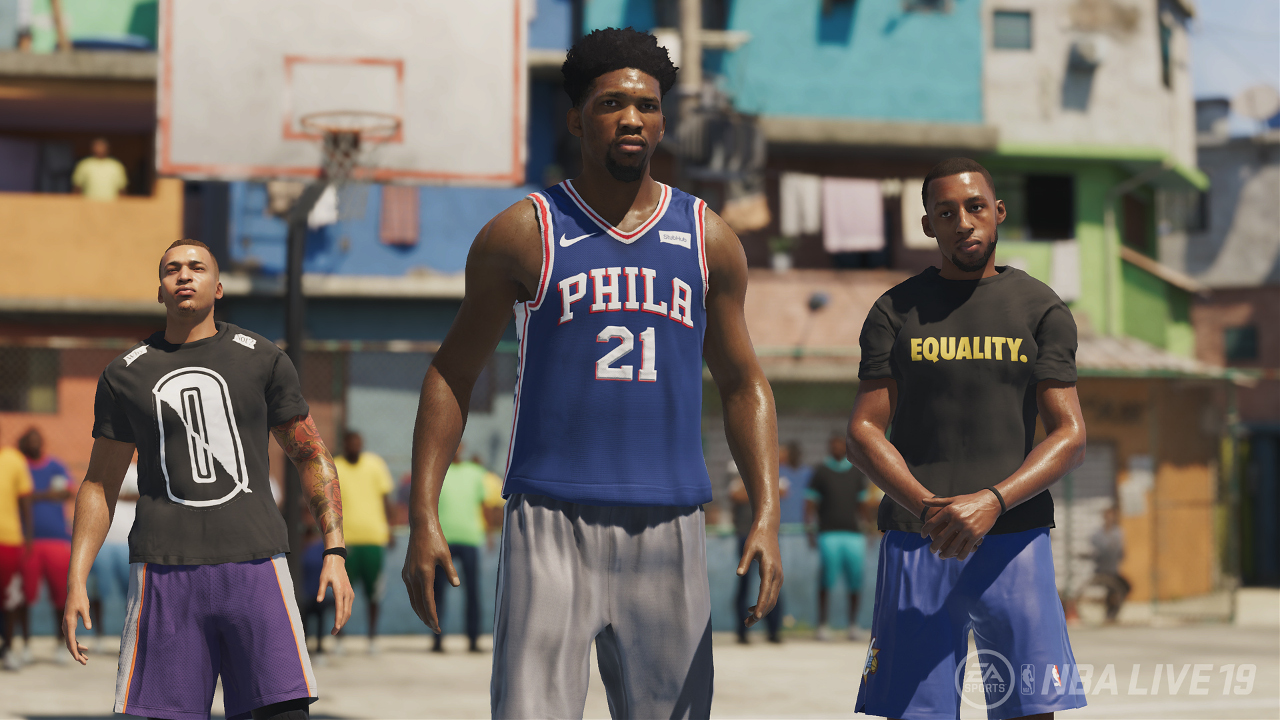 NBA Live 19 wasn't able to generate much buzz out of EA Play, despite some announcements related to features for the upcoming game that had little to do with the actual NBA. The series was able to get back onto solid footing last year but even while EA was practically giving it away it didn't gain a whole lot of traction with consumers. Strengths are looking to be capitalized on with NBA Live 19 by expanding The One career mode while introducing Real Player Motion, the new animation technology featured in all EA Sports titles.
Now though thanks to retailer listings more on NBA Live 19 has been discovered including a new adaptive AI system, new commentary team, and interactive environment. No mention is made of Franchise Mode however, which was by far the weakest aspect of Live 18. 
Gameplay
Real Player Motion
Reimagined animation pipelines and player models redefine every move you make with more authenticity, mobility and responsiveness. All new animation sequences and signature styles replicate the movements and mannerisms of your favorite NBA greats providing you with a vast variety of player animations and smooth transitions across the court. From pulling a mid-range basket and dribbling to aggressive defense and post whistle player reactions.
1v1 Everywhere
Change game momentum on every possession with more 1v1 control and responsiveness in all on-ball opportunities and interactivity against your opponent. Just like the best players in the NBA, take control and be aggressive on both sides of the ball to create more space between you and your defender to get open and swish threes or lock down opponents and swat the ball to force a turnover on defense.
New Adaptive AI System
Every Game Feels Different. Influence the entire game as your behavior and attitude on the court affects how your teammates and opponents react. Hype up your squad or intimidate opponents and their fans. You want to try and lock down Westbrook? Be prepared for him to come at you. Trying to dunk on players can make you a target for hard fouls, heated exchanges and trash talk. NBA players react just like their real-life counterparts, bringing in a new level of emotion and realism into Sports games.
Presentation
Live Arena
The action doesn't end after the whistle, so don't let the sideline stop you! Interact with the bench, taunt opposing players, chase the ball into crowd, go hard to the hoop or earn the respect of the crowd, triggering them rush the court after one of your epic plays in The Streets, blurring the lines between what happens on and off the court.
Dynamic Commentary
Discover hundreds of hours of new commentary and weekly updates throughout the year to keep each game fresh and exciting. The all-new commentary duo featuring Ed Cohen, voice of the New York Knicks and former Chicago Bull Jay Williams bring you the latest content from around the NBA, Summer Pro-Ams, and global basketball events.
The One
The Rise
Define Your Story as you start from High School and progress to legend status on courts in THE LEAGUE and THE STREETS. Increase your stock in performance driven challenges and learn mechanics from iconic players as you rise to stardom. Relive your best and worst moments through Modern Highlights as notable basketball influencers and celebrities mark your achievements on the court. Share in the excitement and disappointments throughout your career reflected by your peers, top streamers/influencers, notable media outlets and ESPN personalities.
The League
Live your NBA dream within an authentic, solo-career experience. Get drafted and learn what's it's like to be an NBA prospect, facing challenges and opportunities as you choose your destiny.
The Streets
Venture beyond The League and into The Streets where the rules and how you earn respect, are different. Play solo, multi-player, or co-op experiences in some of the most storied courts and venues in the world.
Build Your Squad
Craft the best squad of NBA stars and legends to join you on your career journey. Unlock NBA stars past and present to build your team by playing in match ups within PRO AM World Tour, Live Event Challenges and Global Objectives. Earn skill upgrades, traits, gear and appearance items to customize each player on your team.