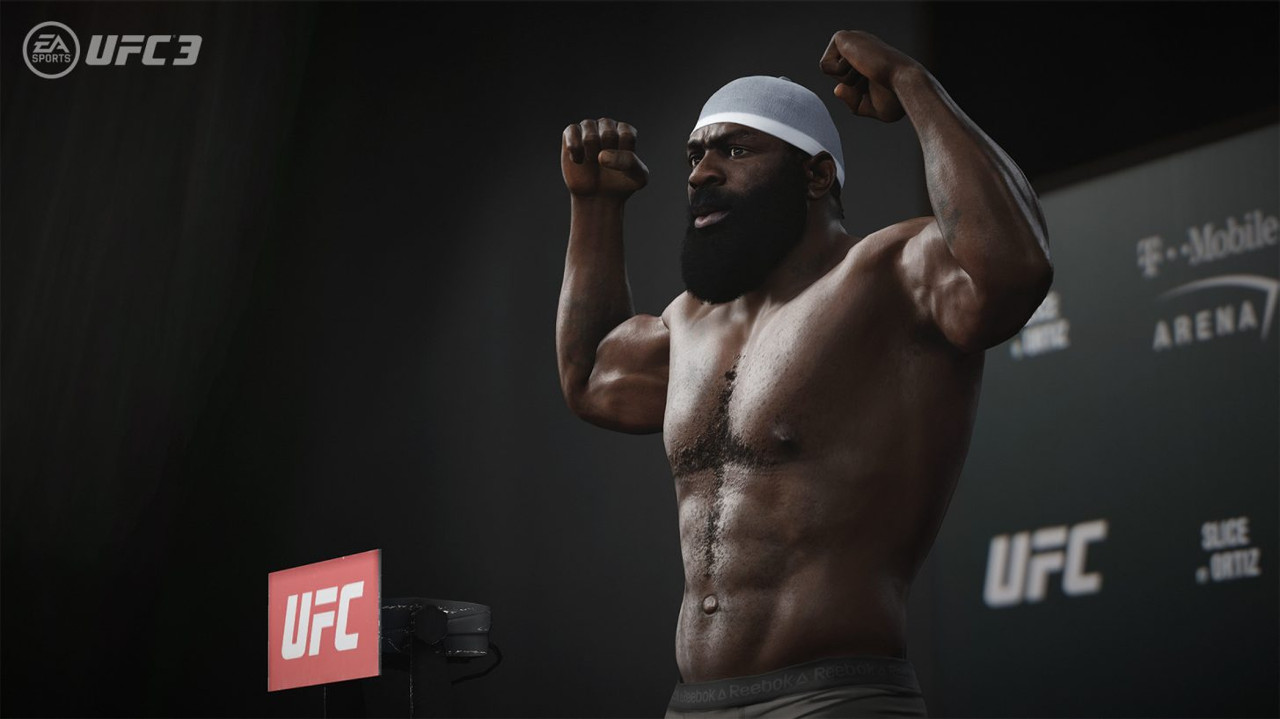 EA Sports UFC 3 has been well-supported with new content and gameplay improvements since releasing early this year, but that support is coming to a close with the release of a new patch today. The free update does a lot for gameplay, makes Knockout Mode and Stand and Bang Mode playable online, and adds five prominent fighters to the roster in Tito Ortiz, Matt Serra, Kimbo Slice, Mirko Cro Cop, and Wanderlei Silva. 
New Fighters
Tito Ortiz (2006): 90 Striking, 95 Grappling, 96 Stamina, 92 Health
Matt Serra (2007): 88 Striking, 92 Grappling. 90 Stamina, 90 Health
Kimbo Slice (2009): 91 Striking, 86 Grappling, 85 Stamina, 93 Health
Mirko Cro Cop (2010): 94 Striking, 89 Grappling, 90 Stamina, 93 Health
Wanderlei Silva (2010): 94 Striking, 89 Grappling. 93 Stamina, 96 Health
Diving Punches to Finish the Fight
One of the biggest complaints we've heard is how difficult it is to follow up on a knock down or knock out with diving punches. Often, you'll knock a fighter down and despite pressing the punch button, your fighter simply won't dive on his/her opponent.
The reason for this was a limited amount of animation data. Fortunately, we had the opportunity to fill in these gaps and have since been able to make big improvements to this aspect. As of the release of the content update on July 3, you will always be able to dive in on your opponent after an alert knockdown, knockdown, or knock out as soon as they hit the floor.
If your opponent falls after an alert knockdown, they will regain guard as you dive onto them. If they are falling after a knockdown, you'll enter into a Finish the Fight position, where your survival will depend on how many times you've been rocked or knocked down previously in the fight.
Finally, if you KO your opponent, you can now dive on them and Finish the Fight emphatically with some additional ground and pound, or if you are confident in the outcome, lay off pressing any buttons and be rewarded with a walk off KO. This adds another level of depth to knockdown scenarios, as fighters who want to avoid grappling at all costs will really need to pay attention to the fight to know if follow up punches will put them in their opponent's guard.
It's also worth noting that the old step-over-into-mount follow up strikes are no longer in the game. If the downed opponent is aware, they will always regain their guard.
New Takedown Features
This next set of changes brings more depth and variety to takedowns. First off, we designed an all-new ankle pick takedown as an alternative to the single leg takedown.
The ankle pick is only available to fighters with a takedown rating of 87 or higher. To perform the ankle pick, you simply execute a single leg takedown from step kick-range, or a single leg takedown from kick-range when your opponent is retreating, or a single leg takedown from any range if your opponent is using the evasive retreat.
The ankle pick is a more difficult takedown to deny and ends up in side control position, so it should improve the utility of the single leg takedown for higher-rated fighters. We've also added ways to help you set up regular takedowns in game.
If your opponent is moving towards you, the denial window for a double leg takedown you attempt will be reduced by 20%. Similarly, if your opponent is moving away from you, the denial window for an attempted single leg takedown will be reduced by 20%. These new rules will act in conjunction with any existing setups, be they leg damage, counter windows, hit stuns, or when your opponent has their back to the cage. This adds one more thing to consider when deciding when to attempt a takedown, and should make takedowns more viable when set up correctly.
Finally, based on community feedback, we've increased the range on cage takedown entries from two feet to three feet, making it easier to achieve these takedowns when your opponent has backed up to the cage.
Utilize a Push Off
In an attempt to give players yet another tool to create space against aggressive opponents, we've added a push off feature to the standup game. To perform the push off, hold block and press the same input as a lead uppercut. The push off will shove your opponent back, allowing you to easily create space on your opponent without needing to use kicks. The push off will interrupt hooks, uppercuts, knees and elbows if it lands early enough, but will not interrupt straight punches or kicks.
In addition, the push off will combo the same as a jab. This means you'll be able to combo the push off with a head kick, making it a great setup to attack with.
Better Cage Cutting
Finally, we've made some significant improvements to cage cutting. First we made defensive blocks break down faster when circling into a round strike (hook/roundhouse) on the same side you're moving to. In addition, we made your locomotion speed drop during the block stun in this same scenario.
Lastly, we've reduced striking power when your back is against the cage. We hope these changes make it easier to cut the cage, and more dangerous to have your back against the cage.
A Few More Taunts
Many of you have been asking for Cody Garbrandt's robot dance taunt. So we captured it, along with three other taunts from his fight against T.J. Dillashaw, and we've added these animated taunts in-game.