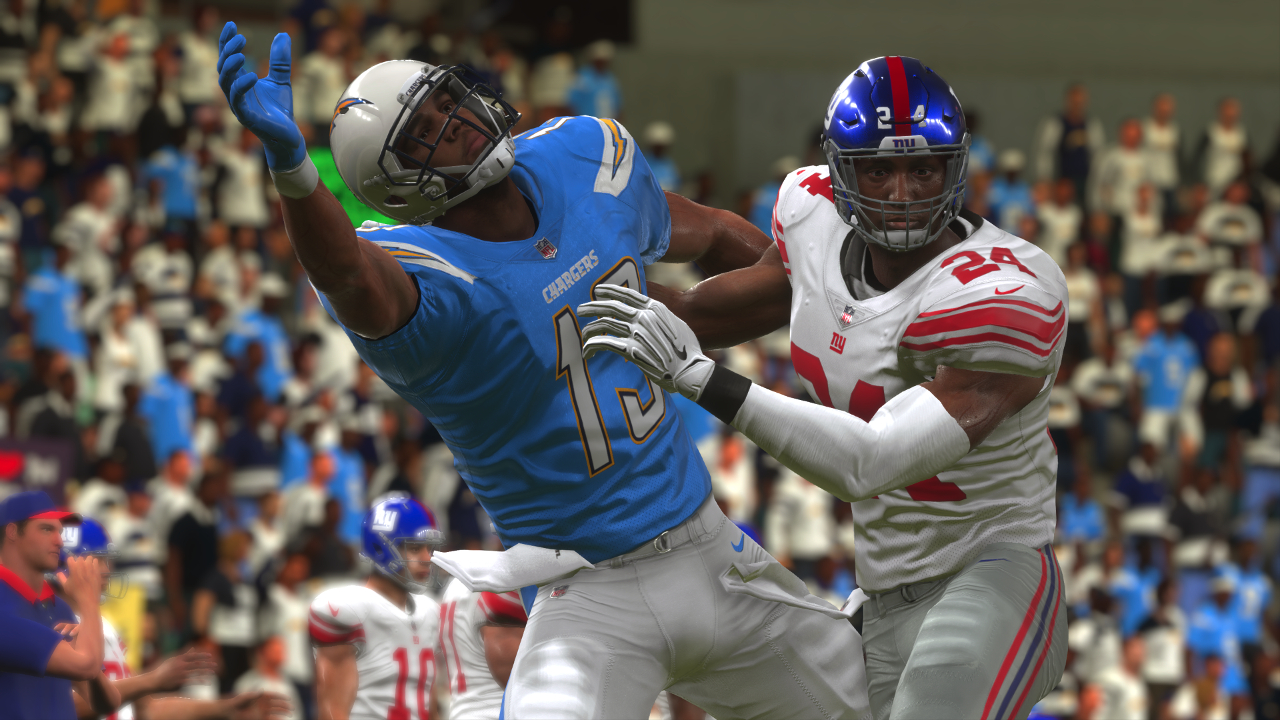 Madden NFL 19 has now been out for a month now and today EA Sports pushed live the second major post-release patch for the game. The first update followed improvements based on beta feedback and that one incorporated some of the data that had been collected in its early days of being out in the wild. Included then was a significant change to the Hit Stick, a reduction to dropped passes with possession catches, the addition of a notification regarding what player has been injured off-ball, and updated likenesses for 29 players.
The latest patch features a large number of improvements for Franchise Mode, changes the formula for how defenders play the ball in the air, makes a number of other adjustments to gameplay and RPM, and even more likeness updates have been completed. 
Gameplay Updates
Tuning
♦Tuning to decrease the frequency of fumbles when using the Strip Ball mechanic
♦Tuning to increase the frequency of broken tackles when setting the Strip Ball coach adjustment to Aggressive
♦Tuning to make the defense more susceptible to running plays when setting the Pass Rush coach adjustment to Aggressive
♦Defaulted the Auto Strafe option to OFF for all users in MUT Squads to remedy issues of users' auto-strafe settings changing to the host's setting without knowing it
♦Tuning to increase the Out of Position penalty for using defensive players on offense
♦Tuning to decrease the number of fumbles that occur when the ball carrier is tackled by getting his feet taken out from behind
Pass Coverage
♦Fixed issue preventing Cover 3 & Cover 4 zones from covering Fake Screen Wheel properly
NOTE: Specific to Cover 3, we are still working on an issue occurring with Curl-Flat zones sometimes leveraging the Wheel route and leaving the flat route uncovered, but this can be mitigated by using hot-routes to put the Curl-Flat player in a Hard Flat or Cloud flat – we are continuing to work in this area and hope to have this completely addressed in a future title update
♦Fixed an issue causing Cover 4 Palms to overplay out routes from the slot instead of covering streaks behind it
♦Fixed an issue causing fade routes out of Bunch formations to get open too frequently vs. Cover 4 Palms and Cover 4 Quarters
♦Fixed an issue causing deep post routes out of Bunch formations to get open too frequently vs. Cover 4 Palms
♦Fixed an issue causing Cover 4 Quarters to leave the Seam route uncovered with an RB route to the same side
♦Fixed an issue preventing defenders in match zones from properly covering double-move routes
♦Fixed an issue that would sometimes prevent the Ultimate Team ability Footsteps from applying the proper catching penalty to nearby receivers
Real Player Motion
♦Fixed an issue causing the center to sometimes get stuck in the snap animation after the snap when playing on any game speed besides Normal
♦Tuning to decrease the frequency of AI ball carrier's usage of the One-Cut mechanic
♦Fixed an issue causing a player to get stuck while getting up off the ground in post-play
♦Fixed an issue causing left-footed punters to quickly change their stance during the snap on punting plays
♦Fixed a rare issue where the QB would get stuck in a physics pose and hover off the ground following a sack
♦Tuning to improve cases of short delays after handoffs in MUT Squads
NOTE: We still have a few improvements to make here in future updates
♦Fixed issue causing short delay after handoff when playing on Slow or Very Slow game speeds
♦Fixed an issue preventing QBs in pistol formations from properly finishing their rollouts on Play-Action plays
♦Fixed a rare issue causing the ball carrier to warp either forward or backwards while using a Hit the Hole animation
♦Fixed an issue causing defenders to sometimes warp from a dive tackle off the ground into a standing tackle
♦Tuning to prevent movement issues with user-controlled defenders when the user would make slight movements with left stick in pre-play
♦Fixed an issue causing the FB to run into the QB during the play I-Form Wing HB Toss
♦Fixed an issue causing the QB to delay when trying to set his feet for a pass while scrambling, which would result in an incorrect Throw on the Run accuracy penalty
♦Fixed an issue causing an incorrect physics interaction when a defender would hit the kicker after attempting a kick block
♦Fixed an issue that would cause handoff animations to sometimes be misaligned when running hurry-up offense
Pre-Play
♦Further tuning to improve defensive player movement out of huddle breaks
♦Fixed an issue causing the auto-motion player to freeze at the snap on plays Singleback Spread 61 X Choice and Singleback Spread 60 Go
♦Tuning to reduce time it takes AI-controlled teams to kick or punt when game clock is stopped
♦Additional logic for pre-play QB Signature animations to make QBs use only hot-route animations instead of longer change-play animations when using audible within current formation
♦Fixed an exploit that allowed the user-controlled defender to prevent the offense from snapping the ball while using hurry-up offense
♦Fixed exploit that allowed user to flip routes and offensive alignment without defense reacting
♦Fixed an issue with routes not flipping when prompted in No Huddle offense audible plays
♦Fixed an animation issue causing defender to twitch after using Base Align in Big Nickel > Over G > Cover 3 Match
♦Fixed an issue causing the AI to always use Four Verticals as the default play when calling an audible out of FG Block to prevent exploits
Catching
♦Updated the formula used to determine defenders' ability to play the ball in the air to allow for more opportunities for defenders to use jump catches, specifically user-controlled defenders
NOTE: Instead of using the Spectacular Catch (SPC) rating to determine if a defender can play a jumping catch or a 180-catch when not facing the QB, we are now using a combination of the Jump (JMP) and Agility (AGI) ratings – in order for a defender to have the ability to play a high ball or catch a pass over his shoulder, he must have at least a 75-rating in Jump AND an 80-rating in Agility. This should reduce situations where the defender fails to play the ball in coverage. This change will have no impact on offensive players and will be used across all game styles and difficulty levels.
♦Fixed an issue preventing a catch animation from playing on user-controlled defenders when holding the Play Ball button before the pass is released
NOTE: When holding any catch or play-receiver button before the pass is in the air, users on defense will now get an animation corresponding to the button input. This should be considered as an Early Ball Hawk penalty that will decrease the catch chance, but we are still adding improvements to that logic for a future title update.
♦Fixed a rare issue causing kick returners to incorrectly use a catch drop animation after catching the ball, in which case he would stand in place with the ball and not run
♦Tuning to better balance catch outcomes for mid-air catch interactions (interactions that occur at the catch point with both the defender and the receiver jumping in the air), specifically to reduce the frequency of completed passes when throwing high balls to covered receivers
♦Fixed a player warping issue on kick returns
♦Fixed an exploit used on kick returns that resulted in an incorrect Safety ruling when the returner caught the ball near the sidelines and ran out of bounds
Blocking
♦Made improvements to blocking logic for RBs in pass protection to improve blitz pick-ups dealing with slot CBs in a contain assignment
♦Tuning to improve pass blocking logic vs. blitz set-ups where the user-controlled defender or a QB Spy defender idles near the line of scrimmage to force blockers to target him
♦Tuning to improve blockers getting out of run-block double teams and to their secondary target
♦Tuning to improve blocking logic for Crack blockers on Toss Crack running plays
♦Fixed an issue causing the center to keep the ball on the Pass Mechanics drill in the Skills Trainer Gauntlet
♦Fixed an issue causing a specific defensive-win block shed to occur too frequently vs. run block double teams
NFL Rules
♦Fixed a rare issue on punt blocks where the ball would go out of bounds and the kicking team would incorrectly retain possession of the ball on the opposite side of the field
♦Added support for new NFL Rules point of emphasis – any ball carrier who dives forward to give himself up on the play will be ruled down at the spot of the ball when the first body part that is not a hand or foot hits the ground, whether he is touched by a defender or not.
Franchise Updates
NOTE: All changes will be available to existing Cloud and Offline Franchises.
♦Added new To Do item to View Weekly Award when someone on your team wins
♦Added new To Do item to Upgrade Players that appears when someone on your team has a Skill Point
♦Added new To Do item to View Yearly Awards that appears during the Wild Card week
♦Added new To Do item to View Pro Bowl Rosters that appears during the Pro Bowl week
♦Added XP values to the Skill Point progression bar on the Player Card
♦Added an All Team filter option in the Draft Recap menu
♦Added an NFL filter option in the Roster menu
♦Updated keyboard popup so text is cleared upon typing, so it's faster to rename players
♦Updated draft generator so players at the top of the draft projections are younger
♦Lowered chance to gain a Speed point when upgrading your player
♦Increased scroll speed for editing contracts and colleges in the player editor
♦Fixed issue where backup offensive linemen were making the Pro Bowl
♦Added ability to offer contracts with a salary up to $30 million per year
♦Added postgame automatic snapshot presentation for cloud Head-to-Head games
♦Fixed a visual issue that made the Buffalo Bills on coach hats transparent
♦Added some missing historical season stats for various players, including Todd Gurley II and Odell Beckham Jr.
♦Fixed issue when backing out of My Coach didn't return you to proper tile
♦Fixed alignment issues on Members menu for Cloud Franchises
♦Fixed issue where character models wouldn't load in the Franchise hub
♦Fixed issue where the bottom line ticker showed incorrect starting times for games
♦Updated bottom line ticker so it doesn't show Upset Alerts until Week 6
♦Fixed issue where winning the Super Bowl would award extremely high XP if the XP sliders were adjusted
♦Added Player Card button to the end of season regression menu for players not on your team
♦Grouped duplicate skill upgrades on Player Card Progression History so it's easier to read
♦Fixed issue where fully-maxed 99 OVR players showed on the upgrade tab on the Player Card, and they were listed in the postgame upgrade screen
♦Fixed visual menu issues and applied player's best OVR to Awards screen
♦Fixed Training Recap menu to use player's best OVR
♦Fixed issue where the Drafted filter during the Draft wasn't showing best OVR
♦Fixed issue that when starting as a Player the Active Player menu wasn't showing best OVR
♦Fixed issue where Pro Bowl Awards screen wasn't showing best OVR
♦Increased speed at which Snapshots show on the loading screen
♦Adjusted spreadsheet column widths on Roster, Depth Chart, Draft Recap, etc. to make them easier to use
♦Updated draft generator so players come out with varying QB throwing animations
♦Added ties to the records shown on loading screens
♦Added color variation when swapping players in the Draft Class Editor
♦Fixed issue where team needs values weren't updating during the Draft
♦Fixed issue where players on IR could sometimes be subbed into game
♦Added Captains patch to player model in Locker Room environment when playing as a Player
♦Fixed issue where traits weren't being shown in full on the Player Card
♦Added functionality so players with tied Player Types will match a selected Coach Scheme when backing out of the Scheme Menu
♦Updated selection logic on loading menu so it shows better player comparisons
♦Removed the incorrect Coach Scheme that was visible on the Owner Goals menu
♦Added ability to change weight by single digits when editing your player
♦Fixed exploit where players with stocked up skill points didn't ask for proper contract amounts
♦Fixed issue where facemask was not updating when changing the helmet type
♦Added status message when uploading snapshots in postgame
♦Tuned passing attempt stats when simulating games
♦Added Super Bowl teams to the schedule bar even when your team isn't playing
♦Fixed message when drafting a player with star or superstar development trait to always be a "Good Pick"
♦Fixed issue where wrong Super Bowl number was shown
♦Improved stability when using "slow" super sim
♦Fixed issue where players featured in draft stories could have unrealistic ratings
♦Added the Wembley Stadium to the Seahawks vs. Raiders game
♦Tuned cut logic so rookies drafted in the first four rounds are valued higher
♦Fixed issue in Cloud leagues where the draft tracker didn't update with the correct team after a trade occurred
♦Fixed logic for choosing recommended players to show when cutting
♦Updated visuals on Team Salaries menu
Visual Updates
♦Fixed an issue causing the Big Hitter Fumble banner to fire incorrectly on dive tackles from behind the ball carrier that would result in fumbles (specifically QBs)
♦Fixed issue preventing blue feedback flicker from firing for Ultimate Team Ability Lead the Way
♦Fixed issues preventing the Highlight Coverage UI from appearing in some cases
♦Fixed an issue of blank play art in the Play-call Screen for plays Zona Shallow and Zona Slants in the Cardinals playbook, as well as plays Pistol Trips Inside Smash and ♦Pistol Trips HB Draw in the Pistol Playbook
♦Tuning to make the User Celebration in-game graphic appear more consistently after sacks
♦Fixed a lighting issue causing the in-game lighting to be overexposed after manually skipping the pre-game runout sequence
♦Fixed an issue causing the player to dive in the wrong direction when attempting dive tackles while in the Defensive Player lock camera
♦Updated player likeness for the following players:
Cowboys CB Chidobe Awuzie
Bears HB Tarik Cohen
Seahawks CB Shaquill Griffin
Ravens TE Hayden Hurst
Chargers CB Desmond King
Titans OLB Harold Landry
Cowboys CB Jourdan Lewis
Jaguars DE Yannick Ngakoue
Bills QB Nathan Peterman
49ers WR Dante Pettis
Chiefs MLB Reggie Ragland
Falcons WR Calvin Ridley
Cardinals TE Ricky Seals-Jones
Bears MLB Roquan Smith
Broncos WR Courtland Sutton
Buccaneers DT Vita Vea
Cowboys QB Mike White
Madden Ultimate Team Updates
♦Made improvement to the Squads Lobby screen that will show the name of the Event that is currently active
♦Fixed an issue causing the base OVR of the player to appear when placing an upgraded item into a Set
♦New latency icons have been added to online games so players will now be able to see when they are having connection issues; this is a server feature that we will experiment with and collect feedback from players before making a decision to leave it on permanently.
♦Addressed an issue causing custom commentary to carry over and repeat itself in other MUT game modes after playing a Solo Challenge
PC Updates
♦Fixed issue in gameplay that caused Virtual Thumbstick to display while playing with a gamepad
♦Fixed issue in gameplay causing framerate stutters for some users playing with unlocked FPS
♦Fixed issue in Playcalling that would incorrectly cause a play to be selected when clicking with the mouse
♦Fixed issue in Online H2H Playcalling that caused mouse clicks to not function while on the Away team
♦Fixed various stability issues
♦Fixed numerous issues throughout Franchise and MUT menus where mouse clicks would not function as expected
♦Fixed issue in Franchise that could move camera into darkness while in create-a-player flow
♦Fixed issue in Franchise where Snapshot help pop-up incorrectly displayed "Z" instead of "R"
♦Fixed issue in Franchise mouse highlighting issue on the Formation Subs screen
♦Fixed issue in MUT where the intro video would not play when entering the MUT HUB for the first time
♦Fixed issue where a Right Stick button hint would appear instead of WAS" while showing the matchup wheel
♦Fixed issue where accepting a H2H invite could set the wrong controller as active
♦Fixed issue where mouse clicks did not function in the settings when accessed via the in-game pause menu
♦Fixed issue with inconsistent mouse functionality when entering gameplay from different modes
♦Fixed issue where the mouse would not highlight player details in Player Management Screen