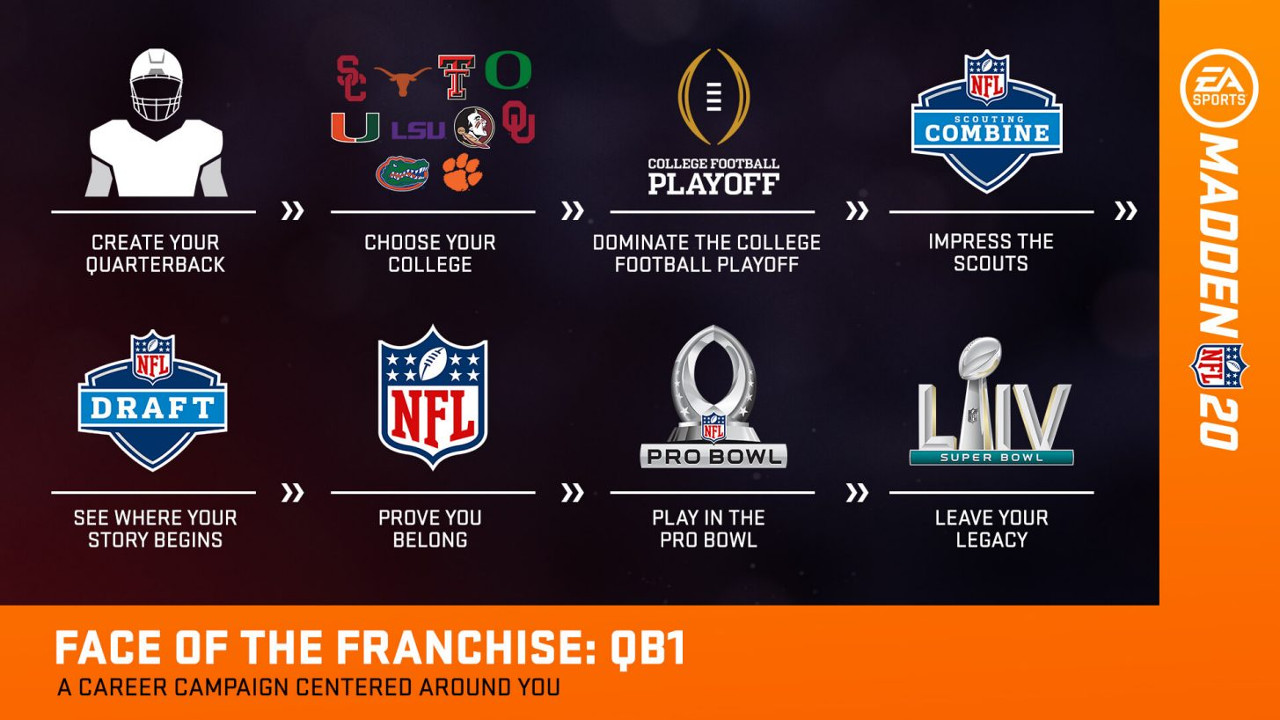 Patrick Mahomes was predictably announced today as the cover athlete for Madden NFL 20 but the bigger news is the reveal of new features including one that he represents in the reboot of Superstar Mode and the return of a college presence.
Face of the Franchise: QB1 – New single-player, career campaign mode that allows fans to create their own quarterback and experience the journey of an NFL Superstar at the College Football Playoffs, the NFL Combine, the NFL Draft and ultimately playing for an NFL team.
10 College Football teams are licensed for inclusion in Madden NFL 20: Texas Tech, Clemson, Oregon, LSU, Florida, Florida State, Texas, Miami, USC, Oklahoma.
While college video games have been absent since 2013 there have been a few appearances in pro games since then, namely NBA 2K16, NBA 2K17, and Madden NFL 18. In the case of Madden two teams, Oregon and Texas, were licensed to appear in the game's Longshot story mode along with the uniforms and stadiums for Ultimate Team.
Also included is a feature called Superstar X-Factor, introducing an all-new progression system that reveals special abilities for today's most exciting NFL Superstars when certain objectives are met in games.
"The team this year wanted to ensure that the superstars of the NFL responded and played differently in all aspects in Madden, just as they do on the field every Sunday – we wanted to make sure the stars felt like stars." said Seann Graddy, Executive Producer of Madden NFL 20. In addition, fans can expect new player celebrations, run/pass option (RPO) plays and unique playbooks.
Madden NFL 20 has a release date of Fri. August 2nd, with those who buy the special edition of the game getting that three days earlier on Tues, July 30. The "Superstar Edition" will include 12 Gold Team Fantasy Packs, a choice of 1 out of 32 core elite players from a favorite NFL team, one small training quick sell pack in Madden Ultimate Team, and a choice of one unique Legends Superstar ability for a created player in the new Face of the Franchise: QB1.