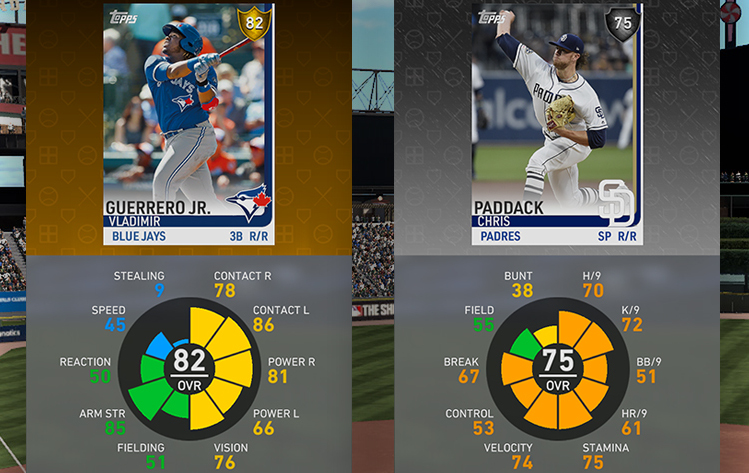 One of the most anticipated debuts for a prospect in recent memory occurred on Friday and surprisingly he was able to be included right away in the roster update that followed for MLB The Show 19. In the past, highly-touted prospects have on a few occasions been signed up even before making their Major League debuts and Vladimir Guerrero Jr. of the Toronto Blue Jays may have been another one of those special cases.
Guerrero is rated an 82 Overall (which is about as high as you'll see a rookie rating) with an 86 Contact vs L and 81 Power vs R. A low fielding rating at third base of just 51 would be a concern.
Chris Paddack, the top prospect in the Padres organization, has also been added to the game though his wait was longer considering he first appeared on March 31st. Paddack has a 1.67 ERA with 30 strikeouts in 27 innings. He starts out at 75 Overall.
Notable ratings changes from the roster update include Chris Sale (-1 to 89), Christian Yelich (+2 to 88), Jose Altuve (+1 to 88), Josh Hader (+2 to 87), Corey Kluber (-2 to 86), Andrew Miller (-2 to 85), Blake Snell (+2 to 85, Upgraded to Diamond), Andrelton Simmons (-1 to 84, Downgraded to Gold), Cody Bellinger (+2 to 84), Jose Berrios (+2 to 81, Upgraded to Gold), Yu Darvish (-2 to 79, Downgraded to Silver), Jose Abreu (-2 to 79, Downgraded to Silver), Pete Alonso (+4 to 73), and Brandon Brennan (+19 to 65).