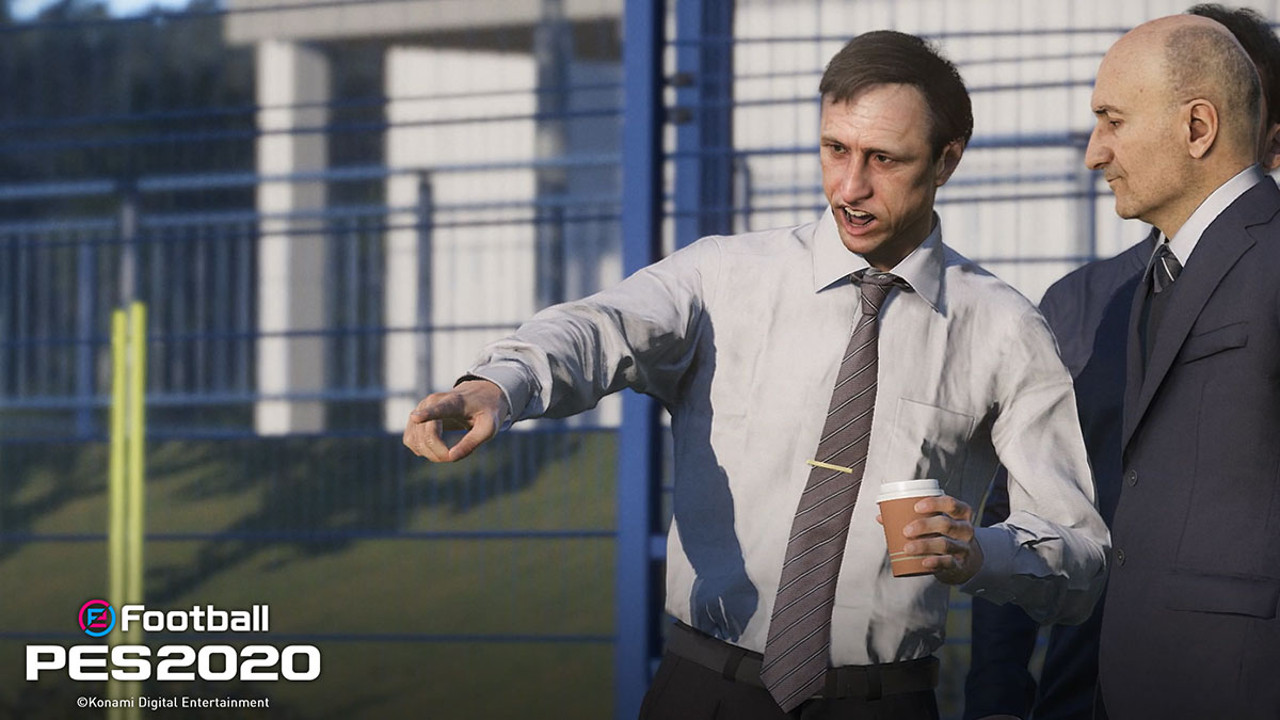 In addition revealing a a cringe-inducing name change this last week Konami rolled out the first feature details on the upcoming game now known as eFootball PES 2020. A number of enhancements are coming to gameplay, Master League is getting a dialogue system to influence the story, and a new mode called Matchday is being introduced.
Gameplay
Finesse Dribble
New in PES 2020, Finesse Dribble is an advanced technique that will allow users that are adept at anticipating the movements of their opponents to snake between defenders with exceptional agility. Developed in close consultation with world renowned midfielder, Andrés Iniesta, Finesse Dribble empowers players with an affinity for technical flair to use superior technique and spatial awareness to outfox the opposition.
Upgraded Trapping Mechanics
Trapping a football is something of an art, and just as no two artists would paint a portrait in the same way, each player has his own unique approach to taking command of the ball.
The development team has gone to great lengths to realize this concept in PES 2020, with huge improvements coming to the way that trapping works in-game.Players will now exhibit enhanced intelligence when interacting with an approaching ball, choosing a trapping technique that is not only representative of their personal playstyle, but also one that suits each match situation.
A handful of new trapping skills will also be available; including No Touch Control, which enables you run beside an incoming ball without making contact; and the Trick Trap, a skill that allows you to feint a trap in one direction before deftly veering off in the other to beat an opponent.
Context-Sensitive Kick Accuracy
For football purists, fewer things are more satisfying to see than a long ball that wings its way towards its target with uncanny accuracy, but like anything else in football, accuracy must be earned.
PES 2020 realizes this idea in-game by bringing an added level of realism to the pitch with enhanced context-sensitivity for kicking.
This means that the accuracy of each shot and pass you unleash will change relative to your posture, your position on the pitch and how much pressure you're under, making for a deeper and more authentic football experience.
Now more than ever, you will be rewarded for timing, patience and match awareness.
More Realistic Defense
When the offense pushes forward into the final third, the penalty area can become something of a battlefield for defending players.
In PES 2020, significant improvements have been made to accurately recreate every tense moment of play that occurs around the box when defenders clamber to shut down a well-executed attack.
These improvements include additional sliding tackle animations, more realistic animations when clearing the ball with your head, as well as the option to perform an Intentional Foul as a last-ditch effort to save an otherwise hopeless situation.
Improved Ball Physics 
Significant enhancements to the physics engine will enable you to interact with the ball in several new ways, contributing to a deeper gameplay experience. First-touch interactions will now be rendered with far greater realism, allowing shrewd players to better anticipate the path of the ball.
Technically-minded football fans will also be able to take advantage of a finely-tuned ball control system that will allow them to manipulate the ball with various parts of their feet and control it with a greater level of dexterity.
Adaptive Player Interaction Inspire
With the addition of an adaptive player interaction system realized through the new Inspire characteristic, fans will be able to see player personalities play out on the pitch with unprecedented realism.
In PES 2020, not only will each player's individual playstyle affect the way he interacts with the ball, but it will also have a significant impact on the behaviour of the players around him.
For example, when a player renowned for his dribbling ability takes possession of the ball, his teammates will spread out to give him adequate space to make a penetrating run.
Similarly, when a known playmaker is on the ball, his teammates will position more aggressively to take advantage of his prodigious passing ability.
This brings another layer of depth to squad composition, as you'll have to think about how different playstyles complement one another to get the best possible performance out of your players.
New Skills and Abilities
Add a host of new skills and abilities to your repertoire in PES 2020, including the following:
Aggression – As the name suggests, players with this skill will bear down on a player with the ball with considerable aggression.
Tight Possession – Players with this skill will be able to use superior finesse and technique to out-manoeuvre the opposition in tight spaces
Through Ball – Players with this skill will receive an accuracy boost when playing through balls.
Long Shot – Players with this skill will receive an accuracy boost when shooting from range.
Master League
Interactive Dialogue System
New in PES 2020, Master League's powerful interactive dialogue system puts the reins firmly in your hands when it comes to controlling story progression.
Choose responses that suit your personality to drive mode progression and create your own personal Master League story.
More Realistic Transfers
In response to feedback from the community, the team have worked hard this year to implement a more realistic transfer system.
The transfer market in PES 2020 will use a brand-new algorithm built on a rich library of real world football data to ensure that transfers, transfer fees, salaries and various other elements are in close alignment with reality.
The new transfer system will be more customizable than previous years, with the ability to configure how often players transfer, how difficult negotiations will be, how often your players are payed and whether your first year will feature a pre-season transfer window.
Improved Manager Models
PES 2020 will allow you to customize your manager model with a greater level of freedom thanks to the use of high performance 3D scanning technology to capture images of individuals of varying body shapes and sizes.
Create an avatar in your own image, or something entirely different — the choice is yours.
Additionally, you'll now be able to play through master league using one of several world-renowned managers as your avatar, including Zico, Cruyff and Maradona.
Customizable Sponsor Logos
Create and customize your own sponsor logos, which will be displayed on the media backdrop during interviews as well as on the Master League main menu screen.
Matchday
The brand new Matchday mode does more than capture the spectacle of football's biggest matches and most notorious rivalries –
it distils the essence of football culture into a competitive format that lifts you out of the spectator stands and puts you onto the pitch.Align yourself with one of two different sides at the start of each event, wherein every perfectly placed pass and show-stopping goal you unleash contributes points toward your side's victory.
Stand alongside PES newcomers and seasoned veterans alike as you work together to gradually build an advantage for your side ahead of the grand final of each event.In football, players score goals and goals win games, but no one player or single goal carries a team through an entire championship — you need something more. This is your chance to be that something.
Group Matches
Once you've aligned yourself with a side, you'll then face off against members of the opposition in Group Matches to earn Event Points.The side with the most Event Points at the end of this phase will enter the Grand Final with an advantage.
You'll earn points even if you don't win, so be sure to play as many matches as possible to ensure your side stands in good stead ahead of the Grand Final.
Grand Final
As the event draws to a close, the results from all Group Matches played during the event are analysed to find the best performing user from each side.
These users are selected as Representatives, thereby earning the right to compete in the Grand Final on behalf of their chosen side.
Win or lose, all Matchday participants will receive rewards for their efforts after the Grand Final finishes; however, to the victor go the more impressive spoils.
The Grand Final will also be viewable via a livestream feed in Matchday mode, so be sure to add your voice to the roar of the crowd in support of your Representative.