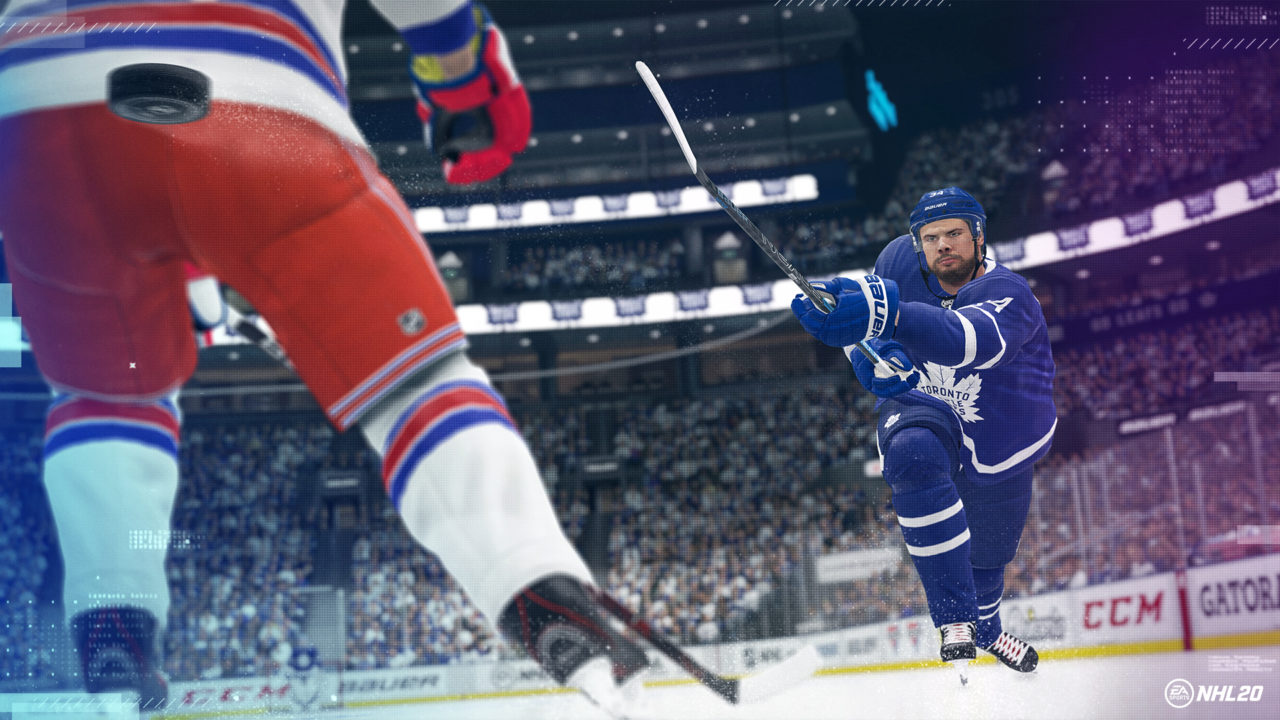 EA Sports waited until after EA Play and E3 this year to make the initial reveal for the upcoming NHL release. The announcement of Auston Matthews as cover athlete last night at the NHL Awards was accompanied by an overview of features and improvements for NHL 20. Those include a new presentation package with a new commentary team, the introduction of signature shots, and a new battle royale-inspired mode.
New Generation of Hockey Broadcasting
A revamped broadcast package delivers fresh new play-by-play and color commentary to NHL 20, paired with overhauled scoreboards, overlays and motion graphics; all built to put you at the center of the game's biggest moments. See your most memorable plays come to life in new Play Of The Game highlights designed to put your best skills on a pedestal for your teammates and your opponents.
New Ways to Play With Friends
NHL 20 adds an all-new competitive game mode: Eliminator. Inspired by the winner-take-all competition in battle royale, Eliminator is a new way to compete in NHL ONES and NHL THREES that pits up to 81 players against each other in a survival tournament bracket to be crowned the ultimate winner. Compete solo in ONES Eliminator, or squad up with friends in THREES Eliminator as you attempt to win three back-to-back elimination rounds against increasingly competitive opponents for ultimate bragging rights.
Also new to NHL 20, last year's fan-favorite outdoor free-for-all mode, ONES, is now available to play in local multiplayer. You and two friends can select from an elite roster of your favorite NHL players, each with a unique class-based playstyle, and compete on eight outdoor ponds from the comfort of your couch in the ultimate party mode.
Speed and Shooting Fueled by RPM Tech
NHL 20 introduces the next major innovation in RPM Tech-powered gameplay with Superstar Signature Shots. Your favorite NHL stars now look and feel truly authentic with the trademark shooting-styles you recognize from the real world. Additionally, over 45 new contextual shot animations make shooting more lifelike as players use new tools to get the puck on net.
RPM Tech also ignites more speed to gameplay through revamped animation blending that allows players to execute shots, passes, and puck pickups without slowing a skater's pace; creating faster, more skilled and more fluid plays up and down the ice.
Finally, new goaltender A.I. includes full offensive threat analysis, allowing goalies to read the positioning and threat level of every attack before actively controlling rebounds and redirecting pucks away from danger.
New Mode and Icons in Hockey Ultimate Team
Hockey Ultimate Team introduces a new way to play in Squad Battles, the fan-favorite mode from EA SPORTS FIFA that allows you to compete and earn big rewards in offline battles. New opponents are refreshed every day, including weekly Featured Squads assembled by NHL players, hot musical artists, hockey influencers, and superstar athletes from other major sports. Squad Battles introduces a brand new way to compete, earn and collect your dream team as you take on the best teams assembled by the biggest names in sports and entertainment.
Hockey Ultimate Team also welcomes a new roster of playable hockey Icons, bringing the total number of collectible and playable Icons to over 400.
An Ever-Expanding World of CHEL
New to World of CHEL are CHEL Challenges, weekly in-game events across all of your favorite modes that unlock unique customization rewards, character XP and more. Adding to the robust character customization options introduced in NHL 19, World of CHEL now offers over 2,000 unique customization items to craft your look and your playstyle – from gear and equipment, to lifestyle apparel from hockey's biggest brands. Four new outdoor locations bring the game to never-before-seen ponds in remote wilderness and city landmarks inspired by iconic locations.