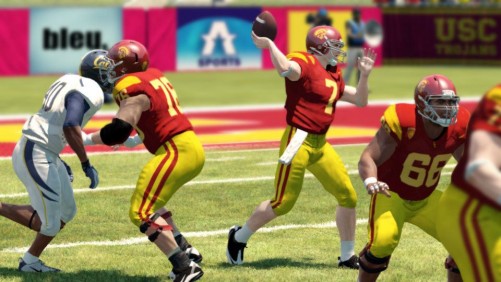 Today California Governor Gavin Newsom signed the Fair Pay to Play Act that was previously passed unanimously by the state senate. The bill allows for college athletes to be paid by outside parties for use of their name and likeness rather than having to do with schools paying them directly. That would include the ability to sign a deal to appear in a video game.
Those who think this means the return of an EA Sports college football game is now imminent will be disappointed however as the process still has a long ways to go.
First, the new law won't go into effect until 2023. With a lawsuit to come from the NCAA and others that will potentially originate from the schools themselves to challenge the new legislation that could be even further delayed. Second, EA is not going to produce a game based only on California universities.
The hope is with California having a clear recruiting advantage other states will follow with their own similar legislation. The four year delay is actually helpful in that regard.
While this seems to be the most likely scenario to play out it is not guaranteed. The NCAA is currently threatening to ban all California schools from postseason play. They would not be able to do that if more of the country follows suit. Eventually the NCAA would have to relent and allow it nationwide.
There are also questions about how it'll be possible to pay a massive number of players and whether that'll be in the form of a union (like is done for professional sports leagues). If there is a union in place that may be seen as unfair by star players attending major programs but negotiations handled on an individual-to-individual basis could leave some teams with only partially accurate rosters.
The end result has always been inevitable just a matter of time. When the Ed O'Bannon lawsuit ended in favor of athletes but without the necessary resolution to allow players to make money attention turned to the Jeffrey Kessler suit against the NCAA or possible legislation from congress. California however suddenly jumped in to make the first big move that looks as though it will lead to a massively changed landscape of college athletics.