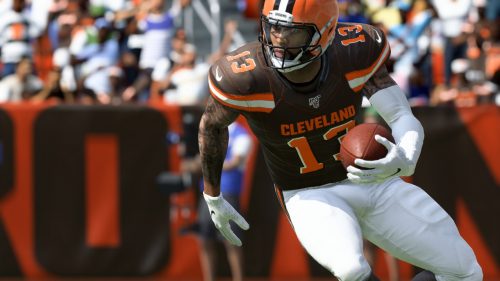 A full quarter of the season is in the books (for most teams outside of those with byes and last night's game) and usually that's when a real trend with player ratings movement starts to be seen. The latest roster update includes changes that react to the week four results but will also start to bring into account a significant portion of the season as players move up and down.
Despite that timing this update didn't turn out to be one with majorly significant changes. In fact the league's Rookie of the Month, Gardner Minshew, sits at 66 Overall. That is 7 points above where he began the season but still places him behind the likes of Blake Bortles, Ryan Fitzpatrick, Eli Manning, and Josh McCown among others.
Notables on the move include Odell Beckham Jr. (-1 to 96), Todd Gurley (-1 to 95), Earl Thomas (-1 to 94), Russell Wilson (+1 to 93), Stefon Diggs (+1 to 93), Ezekiel Elliott (-1 to 93), Adam Thielen (-1 to 93), Aaron Rodgers (+1 to 89), Matt Ryan (-1 to 88), Nick Chubb (+1 to 86), Kenny Golladay (+2 to 85), Desmond Trufant (-2 to 86), Tyler Eifert (-2 to 85), Justin Coleman (+3 to 81), and Frank Clark (-2 to 81). For all the changes that have been made and the current ratings check out the spreadsheet on the official website.