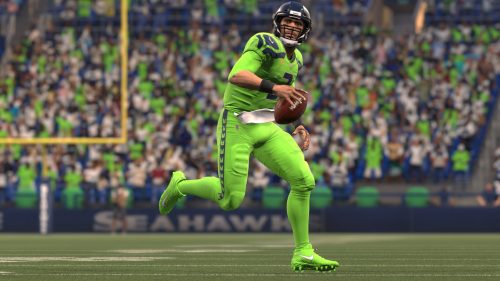 The roster update for Madden NFL 20 factoring in performance and movement through the first five weeks of the season is now available to download on all platforms.
The most significant surge this week belongs to Russell Wilson who was bumped 2 points to 95 Overall. After starting the season at 91 Overall he has seen his rating rise all in just the last 3 weeks while having jumped to the front of the MVP discussion. Along with Patrick Mahomes, who is already at 99 Overall, the other name in that mix in this early stage is Christian McCaffrey who went up a point this week to 93 Overall.
Other names on the move include Adam Thielen (+1 to 93), Ezekiel Elliott (-1 to 92), Philip Rivers (-1 to 92), Stefon Diggs (-1 to 92), Amari Cooper (+1 to 91), Mike Evans (-1 to 91), Dalvin Cook (+1 to 89), Justin Houston (+1 to 87), Cooper Kupp (+1 to 86), Matt Brieda (+1 to 84), Aaron Jones (+1 to 84), Lamar Miller (-2 to 83), Nick Bosa (+2 to 82), Dak Prescott (-2 to 82), Sean Lee (-4 to 80), and Baker Mayfield (-2 to 80). For all the changes that have been made and the current ratings check out the spreadsheet on the official website.