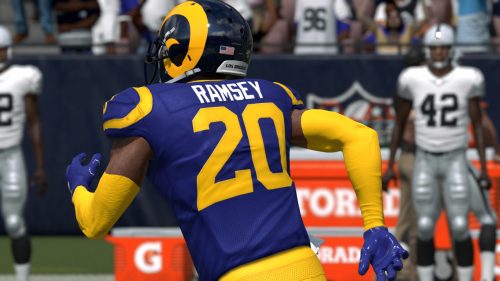 The roster update for Madden NFL 20 factoring in performance and other transactions through the first six weeks of the season is now available to download on all platforms.
The Rams will see a big makeover in their defensive backfield after the acquisition of Jalen Ramsey, departure of Marcus Peters, and Aqib Talib's move to the IR. At 95 Overall Ramsey is the second best corner in the league trailing only Stephon Gilmore.
Notables on the move this week include Gilmore (+3 to 97), Russell Wilson (+1 to 96), Stefon Diggs (+1 to 93), Jamal Adams (+2 to 92), George Kittle (+1 to 92), Adam Thielen (-1 to 92), Philip Rivers (-1 to 91), Aaron Rodgers (+1 to 90), Malcolm Jenkins (-3 to 89), Melvin Gordon (-1 to 88), Hunter Henry (+1 to 86), Preston Smith (+3 to 84), Nick Bosa (+1 to 83), Kyle Van Noy (+4 to 82), Fred Warner (+4 to 77), and Marcus Mariota (-6 to 73). For all the changes that have been made and the current ratings check out the spreadsheet on the official website.