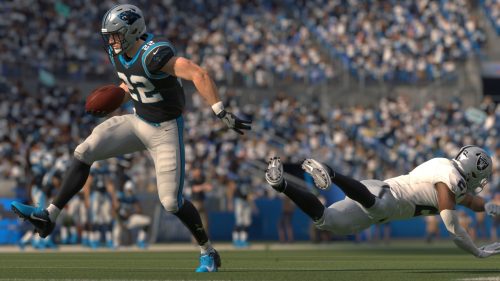 The roster update for Madden NFL 20 factoring in performance and other transactions through the first eight weeks of the season is now available to download on all platforms. This update arrives at just about the mid-point of the season and includes some dramatic ratings movement.
Christian McCaffrey leads the way with a huge +3 taking him to 96 Overall. He is now the highest rated running back in the game by a full 3 points over Dalvin Cook, who himself got +3 this week putting him at 93 Overall. At the same position going the opposite direction is Todd Gurley plummeting 6 points down to 88 Overall.
Other notables of significance this week include Bobby Wagner (-1 to 98), J.J. Watt (+1 to 97), Michael Thomas (+1 to 96), Von Miller (-1 to 96), Odell Beckham Jr. (-1 to 95), Terron Armstead (+5 to 94), George Kittle (+2 to 94), Quenton Nelson (+2 to 92), Tyler Lockett (+2 to 89), Byron Jones (-2 to 89), Aaron Jones (+2 to 87), Philip Rivers (-3 to 87), Nick Bosa (+2 to 86), Malcolm Jenkins (-3 to 86), Justin Coleman (+4 to 85), Eric Kendricks (+4 to 85), Xavier Rhodes (-8 to 77), and Patrick Robinson (-7 to 75). For all the changes that have been made and the current ratings check out the spreadsheet on the official website.