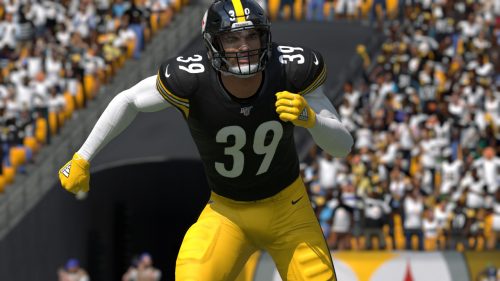 The roster update for Madden NFL 20 factoring in performance and other transactions through the first 10 weeks of the season is now available to download on all platforms.
Christian McCaffrey continues his rise now sitting at 98 Overall. He has gone up 5 points in just the last 3 weeks and since the start of the season has seen his rating soar from 91 Overall. Teammate Luke Kuechly is going the other direction however dropping 2 points to 96 Overall.
Player of the Week winners Lamar Jackson (+2 to 86) and Dalvin Cook (+1 to 94) got recognition but the award winners on the defensive side, Jadeveon Clowney and Jamal Adams, went untouched in this week's update.
Other notables on the move include Michael Thomas (+1 to 97), Odell Beckham Jr. (-2 to 93), Mike Evans (+2 to 92), Amari Cooper (+1 to 92), Travis Frederick (-2 to 91), Keenan Allen (-1 to 91), Adam Thielen (-1 to 91), Saquon Barkley (-1 to 89), Cameron Heyward (+2 to 88), Aaron Jones (+1 to 88), Philip Rivers (-2 to 87), Todd Gurley (-1 to 87), Minkah Fitzpatrick (+2 to 85), and Josh Jacobs (+2 to 84). For all the changes that have been made and the current ratings check out the spreadsheet on the official website.