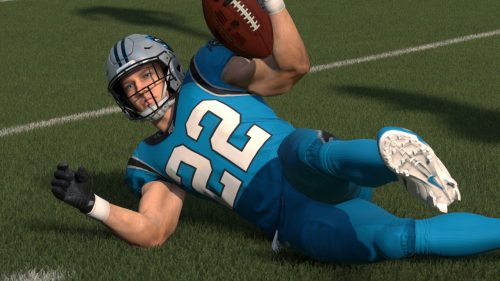 The roster update for Madden NFL 20 factoring in performance and other transactions through the first 11 weeks of the season is now available to download on all platforms.
With this latest update a rising star has entered the most elite club of 99 Overall rated players while one of those that began the season there has fallen out. Christian McCaffrey has made it from the 91 Overall he began with to now being a member of the 99 Club. In the last 4 weeks alone he's gone up an astonishing 6 points to get there. Khalil Mack has dropped to 98 Overall after having been at the top going all the way back into last season.
Other notables on the move this week include Stephon Gilmore (+1 to 98), Tom Brady (-1 to 97), Quenton Nelson (+2 to 94), Dalvin Cook (-1 to 93), Odell Beckham Jr. (-1 to 92), Lamar Jackson (+1 to 87), Philip Rivers (-1 to 86), Dak Prescott (+1 to 85), Deshaun Watson (-1 to 84), Kirk Cousins (+1 to 83), O.J. Howard (-2 to 82), D.J. Chark (+2 to 81), and Anthony Brown (-4 to 75). For all the changes that have been made and the current ratings across the league check out the spreadsheet on the official website.