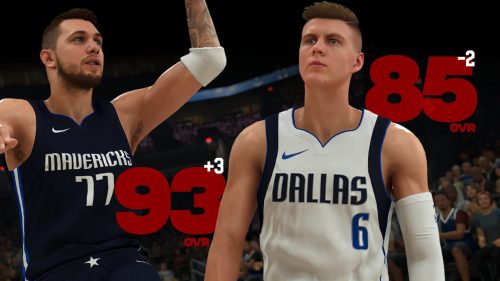 Now a full month into the season 2K Sports has rolled out its second roster update with ratings changes for NBA 2K20. Luka Doncic, Trae Young and Andre Drummond were the big winners two weeks ago in the first round of changes.
Doncic continues a meteoric rise up another 3 points now to 93 Overall. That's now 6 points that he has gone up since the season began. That's understandable considering he is averaging near a triple-double at just about 3o points, 10 rebounds and 9 assists a game for a Mavericks team that looks like a playoff contender.
The other big surge goes to Andrew Wiggins who is up 4 points to 84 Overall. Wiggins currently has career-highs in points, shooting percentage, rebounds, and assists.
Other notables on the move in this update include Paul George (+1 to 94), Karl-Anthony Towns (+1 to 91), Joel Embiid (-1 to 91), Kyrie Irving (-1 to 91), Bradley Beal (+2 to 89), Russell Westbrook (-2 to 88), D'Angelo Russell (+2 to 87), Eric Bledsoe (+2 to 86), Clint Capela (+2 to 86), Kristaps Porzingis (-2 to 85), Kyle Kuzma (-3 to 81), Devonte Graham (+4 to 80), Bogdan Bogdanovic (+3 to 79), and Moritz Wagner (+4 to 78).