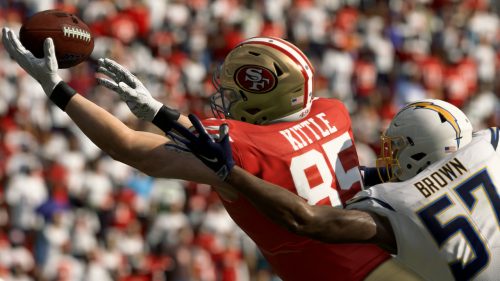 EA Sports has released another patch for Madden NFL 20 with this one providing notable additions to playbooks and changes to Superstar X-Factor players.
Playbooks
Alternate versions of every offensive and defensive playbook for each NFL team have been added as playbook options in Play Now and Franchise. In addition to the new plays and formations these playbooks introduce, these books will also be used to update playbook content throughout the rest of the Madden NFL 20 season. These alternate playbooks are updated versions of each teams' scheme that closely mimic the plays they've been running so far in the NFL season.
To access these playbooks, toggle on the 'NFL Live Playbooks' option in the Game Options settings from the main menu or via the Advanced Settings option in the Team Select screen. The Advanced Settings option in Team Select is how Franchise players will be able to access the alternate playbooks. The NFL Live Playbooks will NOT be available for use inside of Custom Playbooks but will instead function like the 'generic' playbooks and the alternate playbooks will also NOT be supported by Formation Subs inside of Franchise mode. More details about some of the new playbook content can be found below in the 'Gameplay' section of the notes.
New formations: Defensive 4-3 Even, 6-1, 46 Cub, Dime Sugar 3-2, Dime Sugar Weak; Offensive Heisman package
Updated play-calling AI for Ravens playbook to call more QB option run plays
Defensive formations added to NFL Live playbooks for Bears, Dolphins, Lions, Patriots, Rams, Jets, Chiefs, Jaguars, Jets, Patriots, Saints, Lions, Vikings, Packers, Ravens
Offensive formations added to NFL Live Playbooks for Ravens, 49ers, Rams, Bears, Seahawks, Jets, Chargers, Spread
Fixed an issue causing misaligned players when using the Nickel Triple formation vs. Shotgun Taysom Hill Package
Fixed an issue causing missing play art with base align/flip on some Nickel 3-3-5 plays
Tuning to prevent user-controlled defenders from triggering fake-out animations vs. ball-carrier special moves (Juke, Spin, Hurdle) regardless of ratings match-up on Competitive game-style only. This applies vs. all ball carriers, including those holding X-Factor and Superstar abilities
Fixed issue causing offense into random formations when using hurry-up in MUT Squads
New X-Factor Players
Ravens QB Lamar Jackson, replacing Chargers QB Philip Rivers
X-Factor: First One Free
Superstar Abilities: Escape Artist, Juke Box, Fast Break
49ers DE Nick Bosa, replacing Rams RB Todd Gurley
X-Factor: Unstoppable Force
Superstar Abilities: Strip Specialist, Finesse Specialist
Jets SS Jamal Adams, replacing Cowboys CB Byron Jones
X-Factor: Reinforcement
Superstar Abilities: Enforcer, Under Pressure
Patriots FS Devin McCourty, replacing Bears FS Eddie Jackson
X-Factor: Zone Hawk
Superstar Abilities: Lumberjack, Pick Artist
Cardinals OLB Chandler Jones, replacing Cowboys RB Ezekiel Elliott
X-Factor: Fearmonger
Superstar Abilities: Reach Elite, Edge Threat Elite
Cowboys WR Amari Cooper, replacing Browns DE Myles Garrett
X-Factor: Rac Em Up
Superstar Abilities: Double Move Specialist, In Out Specialist
Updated Superstar Players
Buccaneers WR Chris Godwin
Route Technician
Vikings DE Everson Griffen
Power Specialist
Ravens CB Marlon Humphrey
Man Up
Ravens LT Ronnie Stanley
Secure Protector
Saints RT Ryan Ramcyzk
Secure Protector
Vikings WR Stefon Diggs
Cross Specialist, Post-Flag Specialist
Jaguars RB Leonard Fournette
Bulldozer
49ers DE Dee Ford
Edge Threat
Cowboys CB Byron Jones, downgraded from X-Factor to Superstar
Acrobat
Eagles TE Zach Ertz, downgraded from X-Factor to Superstar
In-Out Elite
Chargers QB Philip Rivers, downgraded from X-Factor to Superstar
Pocket Lead, Arching Deadeye
Cowboys RB Ezekiel Elliott, downgraded from X-Factor to Superstar
Inside Zone Guru
Bears FS Eddie Jackson, downgraded from X-Factor to Superstar
Zoned Out
Downgraded players no longer equipped with any abilities
Colts MLB Darius Leonard
Chargers RB Melvin Gordon, III
Jets MLB CJ Mosley
Redskins SS Landon Collins
Falcons FS Keanu Neal
Rams RB Todd Gurley
Browns DE Myles Garrett