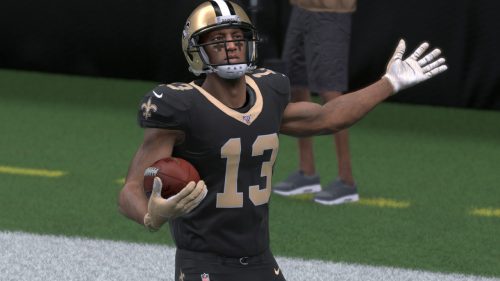 EA Sports has released the last roster update for Madden NFL 20 of the regular season. The weekly updates will continue but primarily reflect performances from the teams in the postseason until the final update of the Madden 20 campaign which will follow the Super Bowl.
The record-breaking season for Michael Thomas has moved him into the 99 Club. Thomas began the season at 95 Overall but didn't begin moving up until week 9. He has taken the place of DeAndre Hopkins who fell from 99 to 98 Overall in this update.
Other notables on the move include Lamar Jackson (+1 to 93), Keenan Allen (+1 to 92), Amari Cooper (-1 to 91), Chandler Jones (+2 to 89), Aaron Rodgers (-1 to 89), Za'Darius Smith (+2 to 88), Mark Andrews (+1 to 84), Melvin Gordon (-1 to 84), Philip Rivers (-1 to 84), Carson Wentz (+1 to 83) and Kirk Cousins (-1 to 82). Check out the complete spreadsheet on the official website for the current ratings and all changes across the league.