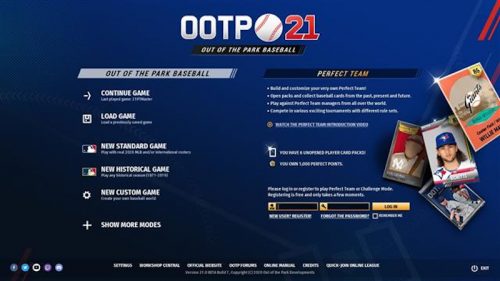 OOTP Developments today officially announced Out of the Park Baseball 21 by detailing the new features to expect in the 21st year of the esteemed sim management franchise. Those include a ballpark creator, completely new scouting system, and better guidance on what to do next with your organization. The game is due out March 20 but pre-orders get started with the beta on March 17 and receive 10% discount off the price.
2020 Rosters and Events
Accurate 2020 MLB and MiLB rosters, schedules (including the London Series and the MLB at Field of Dreams), and rules. Plus the All-Star Weekend goes BIG! For the first time ever, experience and play the Prospects Game and admire majestic blasts in the Home Run Challenge.
On top of that, OOTP 21 features dozens of international pro and independent baseball leagues around the globe, with accurate teams, rosters and player stats & ratings. The whole world of baseball at your fingertips!
Upgraded Live Services
The smashing success of Live Starts expands this season, with additional information being used to make each Live Start even more authentic. Start your OOTP 21 experience from any date of the 2020 MLB season – from Day 1 through the end of the 2020 Postseason – with up-to-the-minute Rosters, Injuries, Trades, Standings, and more!
New 2020 MLB rules, tactics, and player strategies
Baseball is changing in significant ways, and we have got everything in place. How will you use the all-new 26-man rosters to your advantage, as well as the new 28-man September configuration? How will you strategize around the new 3-batter-minimum for relief pitchers? What will your lineups and rotations look like with separate 10- and 15-day Injured Lists for pitchers and hitters? It is a whole new world!
Game Flow
All new Game Flow guides you through the unique OOTP experience in a smart, fully customizable way! Not sure what to do next? Game Flow gets you where you want to be, depending on what is happening right now. Whether it is Spring Training, the dog days of summer, or the offseason, it is easy to find what to do next. A fun way for newcomers and veterans alike to experience Out of the Park Baseball!
3D Ballpark Construction Kit 1.0
At long last – build your franchise's dream ballpark! Our 3D Ballpark Construction Kit allows you to configure a 3D stadium to your whims. Choose from many different field shapes and sizes, ballpark layouts and architectural elements and combine them with Ballpark Factors to emphasize the kind of organization you want to put together – defense, power, speed, gaps, you name it. This long-awaited feature, which will be improved via free updates throughout the year, lets you live a childhood dream – building your own ballpark!
Community-driven User Experience Improvements
A beautiful new interface with fully customizable player page statistics. Plus! Player lists are dramatically improved and can be configured to your liking, with more information than ever available at your fingertips.
Big 3D in-game improvements
New in-game camera modes let you 'follow the ball' during the action, multiple camera angles are available for pre-pitch, during the pitch, and after the pitch. Dozens of new 3D animations are in place, and the entire 3D gameplay has been smoothed and polished. Plus! We have completely reworked in-game audio for better crowd and ambient noise during games – including ballpark-specific audio customization!
New Scouting System
We have rebuilt scouting from the ground up this year, with significantly improved AI, new visual indicators of scouting accuracy, a new and fully customizable Player Scouting Page, new Needs-based assignments, organically created scouting reports coming at different intervals, and more. You have never experienced scouting in OOTP like this!
Drafting Reimagined
A huge amount of new information is in your hands for the draft, including Mock Drafts, Future Draft Classes, sortable Draft History, and more. Realistic high school, college, and junior college player progressions make draft classes more interesting – and authentic – than ever. You will be positioned to dominate!
Perfect Team 21
Perfect Team is an incredible free online competition mode in Out of the Park Baseball that shook up the industry when it first launched in OOTP 19. Assemble, customize, and manage your team by collecting baseball cards from the past, present and future of Major League Baseball. Set your strategy and tactics, then compete against players from around the world to see who is truly the best!