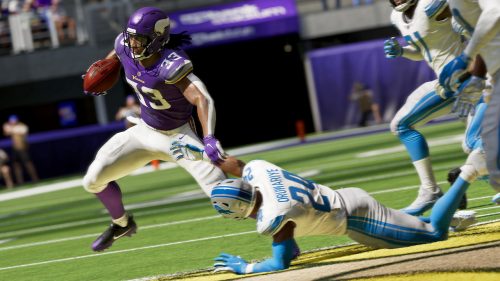 EA Sports today debuted the first look at Madden NFL 21 with the release of a trailer and some feature details. Hopefully something more substantial will come out of EA Play on Thursday because this is a shallow and arcadey introduction to Madden NFL 21. Additionally the publisher confirmed owners of the PS4 version will be upgraded for free when moving onto PlayStation 5 matching the offer for those on Xbox One to Series X.
Face of the Franchise – Rise to Fame
Face of the Franchise returns! Create yourself and begin your career as a quarterback in high school where you'll attempt to lead your team to a State Championship. We should mention while your career starts in high school, that doesn't mean you'll be the starting quarterback. Don't worry, no story spoilers here.
Next, you'll start your college career on National Signing Day where you'll pick between ten Division 1 schools. You'll be able to play two seasons of the College Football Playoffs where you'll attempt to win not one, but two NCAA Championships. While in college you'll have the chance to stay as a quarterback or switch positions to a running back or wide receiver.
After your college career, you'll be attending the NFL Combine where you'll have the chance to test your skills and run the iconic 40-yard dash.
When you finally enter the NFL, your career doesn't stop. You'll have the chance to experience different storylines each season as you make your case for the Hall of Fame.
New Gameplay Features
Skill Stick – You'll be able to combo together all your evasive moves on the right analog stick, including Juke, Spin, Hurdle and Dead Leg. The Skill Stick brings more fluid, athletic movement to the field and gives you more control over the moves you want perform.
Pass Rush Moves – All your pass rush moves and block-sheds for Madden NFL 21 will now be on the right analog stick. You'll have full control to choose the exact rush-move you want and when you want to do it. Be sure to use your rush moves strategically though, as each pass rusher has a limited amo›unt of available moves per play, and blockers will start to build resistance against repeated moves. This will give you more control and it adds a layer of strategy to one of the most important aspects of defense.
Location-Based Tackles – These are tackles where both the ball carrier and defender are aware of the first-down marker, end zone, and pylon. What this means is you'll see ball carriers reach out with the ball while getting tackled to score a crucial touchdown or clutch up a first-down. You'll also see the tackling defender struggle but successfully deny the ball carrier these reach-out moments.
X-Factor 2.0
New X-Factor abilities, fresh out of the lab, are designed to elevate the stars of a new generation in Madden NFL 21.