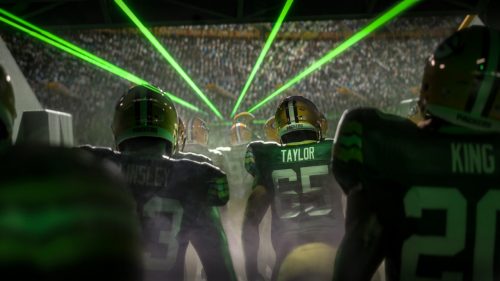 Electronic Arts held the annual EA Play event earlier today and did so remotely with a pre-taped production. As expected upcoming sports games premiered first looks accompanied by additional details including release news. It is notable however that there was just a single trailer shown during the presentation and only featured two of the four upcoming titles.
Madden NFL 21 and FIFA 21 had the premiere of a next-gen trailer with a glimpse at the games for Xbox Series X and PlayStation 5.
Enhancements for Next-Gen titles
♦Sense the impact of shots, passes, catches, kicks, tackles, and hits with immersive controller haptics. A new DualSense controller on PlayStation 5 with rich and responsive haptic feedback deepens the gameplay experience letting you feel the rhythm of the game in your hands.
♦Faster load times get you in the game quicker than ever. Never lose focus as stadium environments will load with unprecedented speed, letting you get to the kick-off in seconds.
♦Authentic new environments, unlocked by a new deferred lighting system create ultra-realistic football experiences and player fidelity, enhancing the game in every part of the stadium.
♦Next-gen technology creates deeper definition in player physiques, while dynamic lighting accentuates details such as faces, hair, kits, and uniforms to take athletes to a whole new level of realism.
♦Whether you're running out of the tunnel in Atlanta or leaping into the stands in Green Bay, hear the spine-tingling roar of the stadium thanks to spatialized audio technology new to Madden that wraps around you for a completely immersive experience.
♦Real-life athlete data feeds into the Madden animation engine to create fluid, athletic player movement when accelerating, running routes, and changing direction. Enhanced animation technology in FIFA enables you to experience ultra-responsive and realistic player movement.
♦From adjusting shin pads in the 89th minute to screaming for passes in the endzone, player humanization unlocks the most authentic character behaviours ever seen in sports video games letting you see the detail and feel all the emotion of football at the highest level.
♦Mother Nature comes alive in Madden like never before. In stunning new detail, see standing water on rain-drenched sidelines and cold winter snow accumulate on the field. Visually enhanced weather conditions also affect cloth definition on athletes to match environmental variables.
♦New contextual player, bench, and fan reactions let you feel the explosive passion of a last-minute winner or a game-clinching touchdown. And pre-game cinematics deliver an unprecedented matchday experience to immerse you in the sights and sounds of professional football.
Other Observations
♦EA Sports UFC 4 did not make an appearance during EA Play. Rounding out the four sports games that will release in 2020 from the publisher (along with Madden, FIFA, NHL) it does however provide the opportunity to sign up for a closed beta.
♦NHL 21 did not make an appearance at EA Play. That may bring into question whether it will release on PS5/Series X. NHL got skipped at the last generation transition also.
♦FIFA 21 joins Madden NFL 21 both on Steam and in providing a free upgrade to those who buy on PS4 to PS5 or Xbox One to Series X. However it is noted that progress in Ultimate Team will carry over but Franchise/Career mode and others will have to be started from scratch.
♦FIFA 21 will release on October 9 with three days early access by paying more for the game. That's a push-back of a week from when the series had typically been releasing.
♦While several other games announced crossplay there was no mention made regarding the sports games.