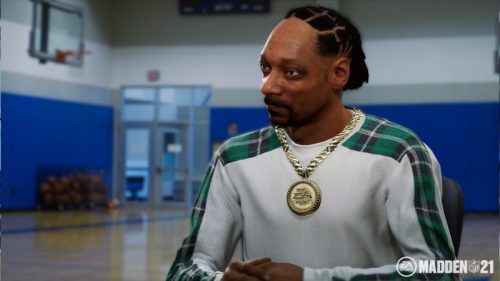 Last week when EA Sports let it be known that a developer blog would be releasing for Face of the Franchise along with Franchise Mode being referred to as 'Classic Franchise' it was obvious the outlook on the latter was bleak. That justified pessimism was confirmed today as FOTF has received the bulk of the attention in Madden NFL 21 with Franchise barely getting what could even be considered a patch-caliber update.
The message from EA has now been made clear. Expectations should be adjusted for the traditional Franchise Mode as something that will remain largely static and only benefit from global changes. Either accept that reality or move on.
Face of the Franchise: Rise to Fame
Create yourself as a player and jump into Face of the Franchise where you will shape your career from High School all the way to the Hall of Fame.
High School: It's where most start their journey towards adulthood, but for you, you're also about to embark on your journey into football stardom! Step into the halls where it all begins as you customize your high school experience by choosing your school name, city and even mascot. From there your story begins to unfold as you're plucked from relative obscurity to provide depth behind the school's resident star QB Tommy Matthews. Your backup gig is shortly lived however as Tommy has been harboring a secret about his health – one that he shares only with you, leaving you with a crisis of conscious. Do you keep his secret and risk his health, or do you betray his trust and shed light on his potentially serious condition? Your decision will define your relationship together throughout your story as you and Tommy at times teeter between best friends and bitter rivals, but through it all you can you find a way to join forces and lead your team to the promised land – a State Championship?!
College: Your story doesn't end there as you're thrust center stage on National Signing Day as ten FBS schools vie for your talents. What starts off as a normal Signing Day ends with a dramatic twist after you don the hat of the school you've chosen to attend. Once you set foot on campus the stakes get even higher as you not only have to deftly navigate a QB controversy right out of the gate, but also have to figure out how to appease your domineering, old school approach, newly minted Head Coach Red O'Brien – all while attempting to build your draft stock through two challenging seasons of college football AND win an College Football Playoff Championship (or two) along the way. As if that weren't enough, you're thrown out of your comfort zone and into disarray when Coach O'Brien delivers you an ultimatum – either switch positions to Running Back or Wide Receiver, or pack your bags and take your chances in the NFL Draft!
Combine & Draft: Since 1982 the NFL Combine has been hallowed ground for the NFL's next generation of talent to showcase their skills for prospective teams. Now it's your turn as you tread those very same grounds and put your abilities to the test amongst your fellow elite up and coming talent. But your skills on the field won't be the only thing scouts will be watching as you're forced to step up to the mic at a pivotal press conference and either let fate decide where you go in the draft or help influence which team selects you. This life changing experience continues when you encounter a chance meeting with legendary NFL commentator Rich Eisen as he helps prepare you for the most crucial event of the combine, the event that can make or break your career – the illustrious 40-yard dash!
NFL Storylines: Your career will have numerous twists and turns as you navigate the many obstacles of the NFL where you will be able to live out NFL storylines ripped from the headlines.
'Classic' Franchise
♦The new X-Factors make their way into Franchise. More details on X-Factors in Madden NFL 21 coming soon!
♦Franchise has an expanded Wild Card Playoff round to match the real-life NFL which now features 3 games for each conference instead of 2.
♦Updated all rookie contract amounts to be more authentic to the actual Draft rookie contracts for all 7 rounds
♦Retuned every position's available Abilities to better consider in-game effectiveness of the ability and archetype authenticity. Also made the 2nd ability unlock for most positions 85 OVR (was 80 OVR in Madden NFL 20.)
♦Fixed multiple cases in logic of players considered for a Dev Trait upgrade at the end of the season not checking the correct stat types.
♦Updates to all team back-end depth chart philosophies so they match the team's scheme.
♦Added position-specific Offensive Lineman archetype progression buckets for OT, OG, and C to capture variance in OVR formulas based on positional expectations. Previously, all OL were pulling from the same progression bucket.
♦Fixed issue where defensive playbooks and schemes for our fictional coaches would be misaligned (e.g. 3-4 playbook with a 4-3 scheme.)