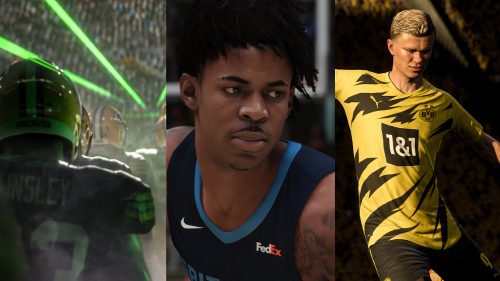 Considering the proximity to their respective releases the point at which the majority of sports video games have reached their highest value may be when they are significantly discounted for Black Friday and Cyber Monday. Most are still in-season, relevant and strongly supported.
This is a unique Black Friday however considering the console transition and upgrade offers for a few of the big sports games – two of which haven't even released yet.
Remember on Madden and FIFA that the PS5 will only get the upgrade coming from PS4 and the Series X for those that own it on Xbox One. Also physical copies will require the discs be in the new systems to play (so a digital PS5 won't benefit from a physical PS4 copy).
Madden NFL 21
Xbox One Digital for $28 (Amazon) *Free Upgrade Xbox Series X/S
Xbox One Physical for $28 (Amazon) *Free upgrade Xbox Series X
PlayStation 4 Digital for $34 (PlayStation Store) *Free upgrade PS5 Standard/Digital
PlayStation 4 Physical for $27 (Amazon) *Free upgrade PS5 Standard
FIFA 21
Xbox One Digital for $28 (Amazon) *Free Upgrade Xbox Series X/S
Xbox One Physical for $28 (Amazon) *Free upgrade Xbox Series X
PlayStation 4 Digital for $35 (PlayStation Store) *Free upgrade PS5 Standard/Digital
PlayStation 4 Physical for $28 (Amazon) *Free upgrade PS5 Standard
NBA 2K21
Xbox Series X Physical for $61 (Amazon)
Xbox One Physical for $28 (Amazon)
Xbox One Digital for $30 (Xbox Store)
PlayStation 5 Physical for $61 (Amazon)
PlayStation 4 Physical for $27 (Amazon)
PGA Tour 2K21
Xbox One Physical for $28 (Amazon) *Playable on Xbox Series X
Xbox One Digital for $30 (Amazon) *Playable on Xbox Series X/S
PlayStation 4 Digital for $30 (PlayStation Store) *Playable on PS5 Standard/Digital
PlayStation 4 Physical for $27 (Amazon) *Playable on PS5 Standard
NHL 21
Xbox One Digital for $28 (Amazon) *Playable on Xbox Series X/S
Xbox One Physical for $28 (Amazon) *Playable on Xbox Series X
PlayStation 4 Physical for $28 (Amazon) *Playable on PS5 Standard
PlayStation 4 Digital for $35 (PlayStation Store) *Playable on PS5 Standard/Digital
MLB The Show 20
PlayStation 4 Digital for $10 (PlayStation Store) *Playable on PS5 Standard/Digital
Out of the Park Baseball 21
Xbox Game Pass