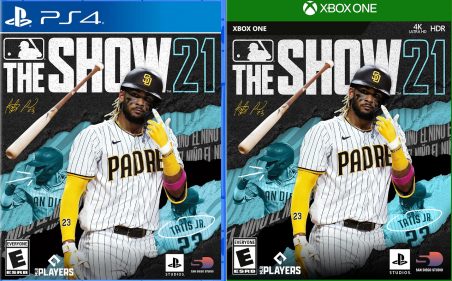 Back in late 2019 MLB and Sony announced that the MLB The Show series would be going multi-platform in 2021. While details were scarce then and nothing new has been provided in the over 13 months since, the expectation has been that MLB The Show 21 would be making its debut on Xbox. Only the pandemic threw some uncertainty into the equation.
Now thanks to a leak of the cover athlete, who in absolutely no surprise is Fernando Tatis Jr., it appears those on the Xbox Series X/Series S/One will have only a matter of weeks to wait for that to be realized.
While the cover art was first revealed by someone with a track record of leaks that have turned out to be accurate that has since been followed up by links in the Gamestop system that displayed the covers including a placeholder for the Xbox Series X and S plus the PlayStation 4 which are not pictured above. It remains unclear, but seemingly unlikely, that PC or Nintendo Switch will see The Show this year but the former should happen down the line.
Xbox has gone without an MLB licensed game since MLB 2K13 released in 2012 – but let's go ahead and consider it 2011 since that game was simply a copy of 2K12 with updated rosters. 10 full years without MLB has led to the PlayStation becoming the dominant console for anyone with interest in the sport. While Super Mega Baseball has filled the gap it's not a replacement and even after all this time based on reaction today on social media and Reddit there does seem to be an audience for The Show on Xbox systems.
The first official news on MLB The Show 21 direct from Sony is expected to come in early February. There's no reason to think a delay to release would occur so it still looks to fall in the traditional mid-late March window.