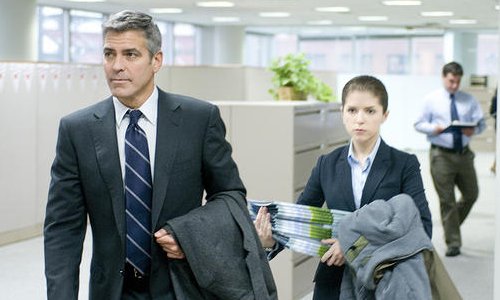 Up in the Air was first screened back in September at the Telluride. The buzz coming out of the there propelled it on a path similar to that of last year's Best Picture winner Slumdog Millionaire which had also debuted at the film festival. Ever since the first reports on Up in the Air the anticipation for its arrival and the talk around its own chances at the Academy Awards has been building.
George Clooney is terrific in his role as Ryan Bingham, a hired gun for corporate downsizing. His job keeps him on the road most of the year and as such that has become where he is comfortable. When a new eager yet naive agent Natalie (Anna Kendrick) arrives with an idea to change the face-to-face firing to an electronic video chat method his way of life becomes threatened. The two travel out to learn the ropes of what it means to deliver the news to people that for some will end up being the worst day of their lives.
Bingham also does some motivational speaking where he lays out his philosophy on how the relationships in people's lives can drag them down. He has lived by this code keeping not only his personal belongings light but also never developing anything more than a passing interest in other people.
Through his travels Ryan comes across Alex (Vera Farmiga) who is in many ways the female version of himself. They immediately bond while seeing their interactions as fun flings but later the question of what a relationship between two people who only see each other in passing can actually mean.
The acting really carries the movie as all of the characters are played in very believable fashion. Clooney, Farmiga, Kendrick all could receive consideration in their respective categories at the Academy Awards. Small roles for Danny McBride, Zach Galifianakis, and Jason Bateman add laughs without distracting from the purpose or mood of the film. Jason Reitman does a fantastic job directing, besting his previous well-received efforts of Juno and Thank You for Smoking.
While I expected some moments I was surprised in how consistently funny the movie is. It comes through naturally never feeling forced or out of place. That really helps to balance out some of the elements of the movie that could be found more depressing such as the spotlight on job loss, which is prevalent in today's economy, and a turn the story takes late.
The pacing of the movie is really well done but in turn that could make the end jarring for some who anticipate complete closure. Everything isn't tied up neatly along with a typical happy ending. All of that makes me appreciate the movie much more though. It is satisfying in the grounded nature of reality.
Up in the Air may not end up as my choice for Best Picture but it certainly is deserving of consideration. There are plenty of laughs, the character development is genuine, and the focus on interpersonal relationships is something everything can relate to.
Rating:





Up in the Air will have limited release on December 4th, expand to more markets on December 11th, and release wide on December 25th.