Press Row Hangout LIVE tonight 11ET/8PT talking the controversy over VC in NBA 2K14.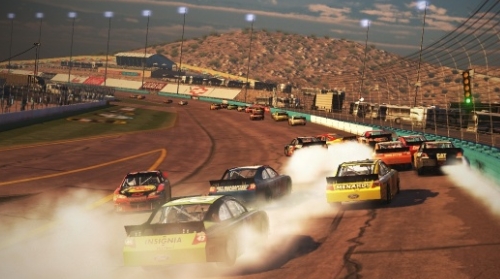 Nascar 2011 released earlier this week and despite some positive response regarding the gameplay it has been plagued by bugs and completely broken online play. Videos such as this and this and this have been getting around representing the type of shape the game is in. Even the most simple of things like the line-up for starts find cars placed in big wrecks, facing walls, or going the wrong direction.
To their credit Activision and developer Eutechnyx have been responsive to the community in this their first attempt at a Nascar game. They're even going out on a limb that most other companies would not by listing what they plan to fix before knowing if they'll actually be able to do so. Still this is about as close to a retail product being a beta as you will find. Continue on for a look at a list of issues that they have laid out to be addressed in an upcoming patch, which would realistically be at least a month (and likely longer) away from arriving.
Bugs:
Fix lack of Caution Flags – To Be Fixed
Fix issues with the A.I. exiting the pits and then pulling straight up the track – To Be Fixed
Reconfigure the damage to improve the look and add more debris on impact – To Be Fixed
Fix Cautions Lights being illuminated all of the time – To Be Fixed
Improve the PS3 voice comms – To Be Fixed
Fix the Rolling Starts Online/Offline so the cars begin in the correct formation and together – To Be Fixed
Fix the instant wrecking during Online Rolling Starts – To Be Fixed
Fix the Lobby Race Start Counter freezing – To Be Fixed
Fix Spotter saying "Clear" too often – To Be Fixed
Improve general stability and freezing issues – To Be Fixed
Improvements:
Change the Gas indicator so it defaults to full in the pit stop interface – To Be Fixed
Draft effect both on the car and visual to be tweaked – To Be Fixed
In Private games, the host will start the timer when they are ready – To Be Fixed
Add support for the Porsche GT2 wheel – To Be Added
Add support for the T500 wheel – To Be Added
Allow the HUD to be completely turned off – To Be Added
Free up the A.I. cars so that when they are hit by a player they will get loose – To Be Fixed
Ensure only Carl Edwards performs a back flip – To Be Fixed
Add the ability to change your Online Car – To Be Added
Investigating:
A.I. being overly aggressive when bump drafting the player
A.I. difficulty being too easy when qualifying
A.I. pitting problems causing them to collide in to each other
A.I. bunching on certain tracks
A.I. slamming their brakes on for no reason
Hitting the wall often turns the car ending up with the player facing the wrong way