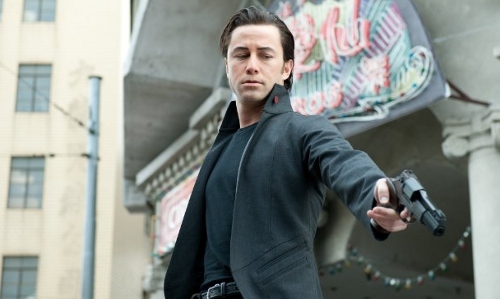 With New Years Day falling on Tuesday releases for Looper and Justified have shifted to Monday 12/31 while the others have stayed on Tuesday 1/1.
Looper
In the futuristic action thriller Looper, time travel will be invented – but it will be illegal and only available on the black market. When the mob wants to get rid of someone, they will send their target 30 years into the past where a 'looper' – a hired gun, like Joe (Joseph Gordon-Levitt) – is waiting to mop up. Joe is getting rich and life is good – until the day the mob decides to 'close the loop,' sending back Joe's future self (Bruce Willis) for assassination. The film is written and directed by Rian Johnson and also stars Emily Blunt, Paul Dano, and Jeff Daniels.

Cosmopolis
Eric Packer (Robert Pattinson),a 28-year-old billionaire asset manager, heads out in his tricked-out stretch limo, while remotely wagering his companys massive fortune on a bet against the Chinese Yuan. His trip across the city quickly turns into a wild, hypnotic odyssey as he encounters explosive city riots and a parade of provocative visitors. Having started the day with everything, Packer's perfectly ordered, doubt-free world is about to implode.

The Trouble With Bliss
Meet 35-year-old Morris Bliss (Michael C. Hall). He is clamped in the jaws of New York City inertia: he wants to travel but has no money; he needs a job but has no prospects; he still shares an apartment with his widowed father (Peter Fonda); and, perhaps worst of all, the premature death of his mother still lingers and has left him emotionally walled up. When he finds himself wrapped up in an awkward relationship with the sexually precocious, 18-year-old daughter (Brie Larson) of a former classmate, Morris quickly discovers his static life unraveling and opening up in ways that are long overdue.

Little Birds
Fifteen-year-old Lily (Juno Temple) and her best friend Alison (Kay Panabaker) live on the shores of the Salton Sea among rundown trailers parks, rotting household items, drained pools and decaying streets. What was once an oasis for the wealthy and famous has become a near ghost town, leaving its residents fighting for breath in the deep end. Lily feels eternally claustrophobic and rebellious, living with her manic, single mother (Leslie Mann), clinging to hope for something more exciting than visits with her young and already washed up Aunt (Kate Bosworth). When they meet a few visiting street kids, the girls' bond is finally tested and Lily convinces Alison to follow the boys back to Los Angeles. Not intimidated by the journey ahead, Lily is hopelessly drawn to one of the boys and the freedoms of their lifestyle. But in the big city, Lily and Alison quickly fall into the boys' world of scams and petty crime. Lily is determined to stay and make it work, while Alison is overwhelmed and eager to return home. When an idea is hatched to use Lily as bait for men with money to steal, things quickly escalate to a life-changing moment. Lily must decide how far she will go to grow up and Alison must decide how far she will go to protect Lily.

Justified: Season 3
In the nonstop, gunslinging third season of the highly acclaimed hit series, Deputy US Marshal Raylan Givens (Timothy Olyphant) must wield his brand of renegade justice against modern crime like never before. Surrounded by dirty politicians, drug cartels, murder frames, hidden fortunes and multiple criminal forces warring for control – including archenemies Boyd Crowder (Walton Goggins, "The Shield") and Dickie Bennett (Jeremy Davies in his Emmyr-winning role), a mystery man named "Limehouse," a lethal mob enforcer newly arrived from the Motor City and in a final shocking showdown, his own father – Givens finds himself in everyone's cross hairs.

Being Human: Season 2
Leading everyday lives is harder than it looks for three twenty-something supernatural roommates vampire Aidan (Sam Witwer),ghost Sally (Meaghan Rath) and werewolf Josh(Sam Huntington). Together, they share the creature comforts of a Boston brownstone while struggling to resist the temptations of their true natures and keep their secrets hidden from the outside world.