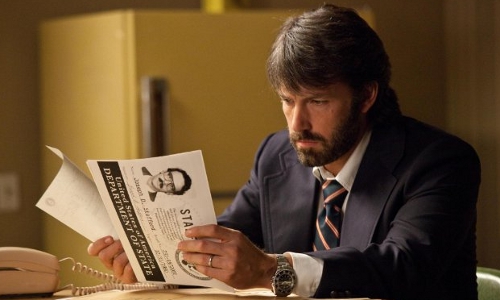 Argo
Based on real events the dramatic thriller "Argo" chronicles the life-or-death covert operation to rescue six Americans which unfolded behind the scenes of the Iran hostage crisis focusing on the little-known role that the CIA and Hollywood played-information that was not declassified until many years after the event. On November 4 1979 as the Iranian revolution reaches its boiling point militants storm the U.S. Embassy in Tehran taking 52 Americans hostage. But in the midst of the chaos six Americans manage to slip away and find refuge in the home of Canadian Ambassador Ken Taylor. Knowing it is only a matter of time before the six are found out and likely killed the Canadian and American governments ask the CIA to intervene. The CIA turns to their top "exfiltration" specialist Tony Mendez to come up with a plan to get the six Americans safely out of the country. A plan so incredible it could only happen in the movies

Sinister
Ten years ago, true crime writer Ellison Oswald made his reputation with a best-selling account of a notorious murder. Now, desperate to replicate success of his first book, he moves his family into a home where the previous occupants were brutally executed and a child disappeared, hoping to find inspiration in the crime scene. In the home, Ellison discovers a cache of terrifying home movies, unwittingly opening the door into a nightmarish mystery.

Top Gun (Blu-ray/3D)
Top Gun takes a look at the danger and excitement that awaits every pilot at the Navy's prestigious fighter weapons school. Tom Cruise is superb as Pete "Maverick" Mitchell, a daring young flyer who's out to become the best of the best. And Kelly McGillis sizzles as the civilian instructor who teaches Maverick a few things you can't learn in a classroom.

Battlestar Galactica: Blood and Chrome
An all-new chapter in the Battlestar Galactica saga, Blood & Chrome takes place in the midst of the first Cylon war. As the battle between humans and their creation, the sentient robotic Cylons, rages across the 12 colonial worlds, a young, talented fighter pilot, William Adama (Luke Pasqualino, The Borgias), finds himself assigned to one of the most powerful battlestars in the Colonial fleet: the Galactica. Though Adama quickly finds himself at odds with his co-pilot, the battle-weary officer Coker (Ben Cotton, Alcatraz), the two men must set their differences aside when a routine escort mission with an enigmatic passenger (Lili Bord n, Silent Witness) turns dangerous and becomes a pivotal one for the desperate fleet.

Atlas Shrugged II: The Strike
Part two of Ayn Rand's groundbreaking novel comes to the screen in this thrilling and powerful drama. The global economy is on the brink of collapse. Brilliant creators, from artists to industrialists, continue to mysteriously disappear. Dagny Taggart, Vice President in Charge of Operations for Taggart Transcontinental, has discovered what may very well be the answer to a mounting energy crisis – a revolutionary motor that could seemingly power the World. But, the motor is dead… there is no one left to decipher its secret… and, someone is watching. It's a race against the clock to find the inventor before the motor of the World is stopped for good.

Anna Karenina
Academy Award nominee Keira Knightley, Academy Award nominee Jude Law and Aaron Taylor-Johnson dazzle in this stunning new vision of Leo Tolstoy's epic love story. At the twilight of an empire, Anna Karenina (Knightley), the beautiful high-ranking wife of one of imperial Russia's most esteemed men (Law), has it all. But when she meets the dashing cavalry officer Vronsky (Taylor-Johnson), there is a mutual spark of instant attraction that cannot be ignored. She's immediately swept up in a passionate affair that will shock a nation and change the lives of everyone around her.

Monsters, Inc. (Ultimate Collector's Edition)
After exploring the worlds of toys and bugs in the two Toy Story films and A Bug's Life, the award-winning computer animation company Pixar delves into the realm of monsters with its fourth feature. Hulking, blue-furred behemoth James P. "Sully" Sullivan (John Goodman) and his one-eyed assistant Mike Wazowski (Billy Crystal) are employed by Monsters, Inc., a scream processing factory. It's the job of Sully, Mike, and their co-workers to keep the frights flowing. When Sully and Mike are followed back into the monster world by a very unafraid little human girl named Boo they are exiled to her universe.

Undefeated
No hope. No future…until a football season united a team and revealed the character that turned them into heroes. UNDEFEATED, an Academy Award winning documentary, (2011 Best Documentary Feature — Dan Lindsay, TJ Martin and Rich Middlemas), is the inspiring and moving tale of three underprivileged student-athletes from inner-city Memphis and the volunteer coach, Bill Courtney, trying to help them beat the odds on and off the field.

Fun Size
Victoria Justice (Nickelodeon's Victorious) stars as Wren, a whip-smart high school senior stuck babysitting her annoying little brother, but that all changes when he somehow manages to get loose. Now Wren and her three friends need to find him as they set off on the most unexpected and unforgettable adventure of their lives…as long as mom doesn't find out!

Top Gear USA: Season 2
Top Gear USA is back for a second season with more super-cars speed extreme stunts and showcases than ever before! In this second season of high-adrenaline action entertainment Top Gear delves deeper into the colorful history of the automobile and showcases an offbeat celebration of the art of driving featuring super-cars extreme stunts and challenges car reviews and celebrity interviews as well as the eccentric adventures of its hosts with Top Gear's customary wit and humor. Hosted by comedian and car buff Adam Ferrara champion rally and drift racer Tanner Foust and racing analyst Rutledge Wood Top Gear an automotive entertainment extravaganza. Big Star Small Car guests include Rick and Chumlee (Pawn Stars) comedian Bill Engvall Arlene Tur (Torchwood) Maroon 5 singer and The Voice judge Adam Levine Bridget Marquardt (Girls Next Door) and Steve Schirripa (The Sopranos).

Game of Thrones: Season 2
Based on the best-selling book series by George R.R. Martin, Game of Thrones is an epic drama set in the grounded fantasy continent of Westeros, where ambitious men and women of both honor and ill-repute live in a land where summers and winters can last years. Season 2 plays out against the backdrop of a fast-approaching winter – the season of the white raven. In King's Landing, the coveted Iron Throne is occupied by cruel young Joffrey, counseled by his conniving mother Cersei and uncle Tyrion, who has been appointed Hand of the King. But the Lannister hold on the Throne is under assault on many fronts. There's Robb Stark, son of the slain Lord of Winterfell, Ned Stark, who seeks autonomy in the North and has taken Cersei's brother Jaime prisoner in battle; Daenerys Targaryen, who looks to shore up her depleted power in the east through three newborn dragons; Stannis Baratheon, eldest brother of the late King Robert, who rejects Joffrey's legitimacy and aligns with a powerful priestess to raise a naval attack; and Stannis' brother Renly, who has maintained his own claim since fleeing King's Landing. In the meantime, a new leader is rising among the wildlings North of the Wall, adding new perils for Jon Snow and the order of the Night's Watch. With tensions and treaties, animosity and alliances, Season 2 of Game of Thrones is a thrilling journey through a riveting, unforgettable fictional landscape.