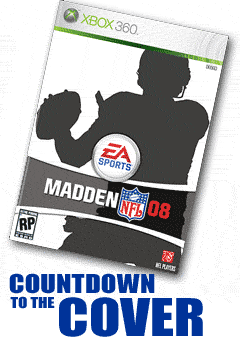 In all the talk I've done regarding Hester being an ideal choice for the Madden cover, many people have doubted the possibility. However now comes a piece on ESPN.com in the "Countdown to the Cover" series detailing how Hester has achieved the first ever perfect 100 score in a rating category. He will have a 100 in speed.
Chicago return man Devin Hester has attained perfection in the "Speed" category, gaining the maximum 100 rating in the upcoming Madden NFL 08 for his amazing wheels. Hester, who set an NFL single-season record with six returns for touchdowns in his rookie campaign of 2006, has been known as the "Windy City Flyer" for his unique ability to turn on the afterburners and bring a kick back for six points. His 100 rating tops the previous high of 99, given to such players as Deion Sanders, Randy Moss, Charles Woodson, and a couple others.
"That's just about the best thing you could have told me," Hester said with a huge smile, when informed of his new Speed rating. "It's an honor — I don't know what to say, really."
This gives a little more legitamacy to the idea of him as the cover man. At the very least he deserved seperation from the mediocre returners in the league and he has gotten that.
Make sure to check out the full article here.