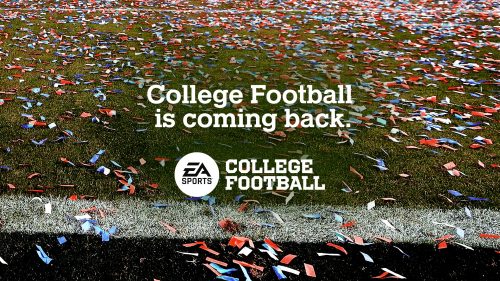 EA Sports' initial pitch to licensors regarding the launch of a new college football gaming franchise targeted release in July 2023. It's disappointing then to get word today that the first game in the new series will instead release in 2024.
That shouldn't come as a surprise however given the scope of the project. In the initial news post about its return and in several podcasts and tweets in the years since I cautioned this was not only a possible scenario but a more likely one than hitting a 2023 date.
While college football will share some architecture, assets, and devs with Madden NFL it is still being very much built from the ground up for current-gen (PS5 & Xbox Series X/S) only with extensive work to be done in all areas. More so than that however, are the remaining legal hurdles and NIL deals that have to be struck.
Given that there is still no player's association that would provide for group licensing EA will have to come to agreement with every player that they wish to be in the game individually. While many may sign away their rights for a copy of the game, others will surely want to negotiate. This goes not just for current players but historic ones that will be used in Ultimate Team. It's also quite possible that EA has had trouble securing the licensing for every FBS program. In their 2020 statement they only stated there would be "over 100 institutions" rather than guaranteeing that they would be all there. Notre Dame, Wisconsin, and USC are notable universities that have reportedly provided resistance. It's difficult to imagine a college football game without some of the biggest programs in the country.
It's critical for EA Sports to hit a homerun with the first launch. The hype will be extraordinary while playing against the nostalgia of the very good NCAA Football 14 – the flaws of which have largely been forgotten. The extra time won't ensure EA Sports College Football 25 will be a great game. It will give them more of an opportunity however to make it a complete one.