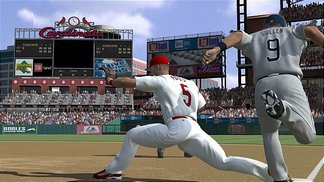 With the positive buzz that has surrounded the franchise the last couple years, the PS3 version of MLB 07: The Show was highly anticipated going into this baseball gaming season. However the game has been pushed back multiple times, and the only media released were a few underwhelming screens back on March 1st.
The lack of information had brought speculation that the game could actually be called off for this year. However a rep from SCEA posted on the Operation Sports forum yesterday to hopefully end that discussion.
This is fact: The game will ship. We're working as hard and as fast as we can.
He goes on to state how he believes the game looks amazing and plays better than the PS2 version.
Despite that comment, the concern from fans is certainly justified. There are issues being faced that forced the game to be delayed. Those are most likely relatively serious, otherwise the game would've been released on time. There is no way they are pleased releasing it a month and a half into the season. Not only do they miss out on the pre-season excitement, but MLB 2K7 has been out since the end of February and captured a good deal of the purchases that will be made this year.
It brings up the issue again of difficulty programming on the PS3. The surprise here is that it comes from a 1st party developer. Looking more into the comment he only states it will "ship" but he doesn't mention a specific date. Its a real possibility that it may not make the 5/15 date that its currently slated for.