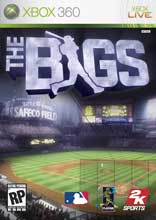 Amidst all the anger and frustration that has settled in for fans of games that were adversely affected by exclusive licenses comes at least one thing to appreciate and look forward to. The companies who hold the licenses must come up with new ways to generate revenue to offset those costs, and the companies who do not hold them must be more creative and unique in the games that they offer to consumers.
NFL Head Coach was released last year by EA Sports, an attempt at a coaching simulation/strategy game that surely would not have been made if they didn't hold the full licensing. If 2K was able to produce an NFL game, it would've made Head Coach the third NFL 'simulation' title out there and it would've been an even tougher sell. It had its own niche it catered to, however it was still reliant on general football fans to be successful. EA also continues to produce NFL Street which is their 'arcade' style football game.
While 2K Sports holds the third party license for baseball, they still have to justify paying that cost by taking full advantage of it. They will be releasing The Bigs this summer, an arcade style game that has a lot of potential as a change of pace title to replace the now retired MLB Slugfest series. If EA was still releasing an MLB licensed game and Midway still had the ability to produce Slugfest, The Bigs may never have come about.
Meanwhile on the other end of things, the licensed games that were locked out forced these companies to come up with new ideas. Midway introduced Blitz: The League which gave the opportunity to experience the extreme side of a fictional football league. Sony planned on releasing Road to Sunday which would've been a combination fighting/football game with a storyline, however it was canceled during development. EA Sports offered for the first time a college baseball game after the MLB deal which ended that side of their MVP franchise. 2K Sports is releasing All-Pro Football 2K8 which is expected to have past legends of the NFL involved and a heavily customizeable environment.
Would we have seen these titles if the exclusive license ordeal had never happened? While it's generally regarded as being a horrible development in the history of sports gaming, it can't be ignored that at least it has spurned some fresh ideas and a wider array of unique games to choose from.