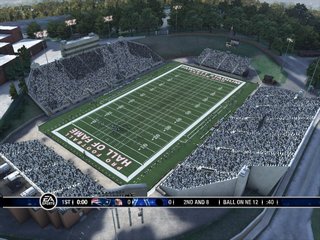 Since the Xbox 360's launch and subsequent utilization of the Marketplace there has been a great deal of debate over the subject of downloadable content. What is worthwhile? What is a waste? Are companies holding back on things only to release them later as D.C.? Lets take a look at some of the things that have been offered in sports titles thus far to see how the releases have progressed.
Madden 07 downloadable stadium (300 MS points = $3.75): A lot of work went into the stadiums, but it was a steep price to pay when you couldn't use them online. The experience from them was empty and didn't hold for very long at that. Some things didn't make sense also. Why did the astroturf of the Kingdome show field degradation as the game progressed?
Madden 07/NCAA Football 07 alternate uniforms (free): They were ultimately released for free but couldn't be used in online mode either. Most of them ended up being throwback uniforms, maybe to avoid the pressure from Microsoft that you can't charge for content that is available on other versions of the same game such as the PS2/Xbox. It was a good gesture by EA to release them for free. Alternates should be expected to be included in the 08 games.
Madden 07 strategy videos (200 points = $2.50): These weren't explained properly when they were released. They weren't replacements for the instruction book or basic tutorials. They were legit strategy videos that would help people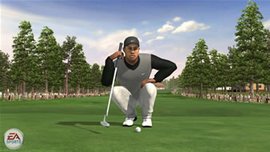 improve their game. I think most immediately dismissed them thinking they were a ripoff. May not have been of use to some, but they would've been to others.
Tiger Woods 07 max out player (200 points= $2.50): Allowing you to max out your player without having to work through the game seemed insane. What is the point then? I suppose some people would like to just play the courses without having to worry about it. If they choose to make the purchase and they have fun with it that way that is their choice. Everyone else can decide against the purchase.
Need for Speed Carbon automobiles (varies): I don't really consider this a sports game but it has a good example of downloadable content that got people up in a frenzy. You could purchase fully loaded cars right away instead of working through career mode to build them up yourself. Also offered were different packages to unlock other aspects of the game such as part upgrades. Those things really made online play unbalanced which was a problem. Yet if people wish to play through career mode having an easy time of it by picking up one of those cars that is the decision they made. It may not seem like fun to some, but to others they may simply enjoy bypassing the frustration of the challenge.
2K Reelmaker (400 MS points = $5): A cool idea similar to what was done previously in Burnout Revenge. Burnout's setup was much better though. With the reelmaker you were limited to putting together highlight packages from one single game only. Also in order to even view someone else's videos you had to own the Reelmaker yourself. If it offered the ability
to upload the highlights to the web or even just let anyone on XBL watch them (ala Burnout) it would've been worth the money.
NBA Street Homecourt download courts/street legends (300 MS points =$3.75): Yet to be released, the street legends and downloadable courts for the game have a great amount of detail and quality to them justifying the charge. It does come across as pretty high though and would probably limit fans of the game to picking up only one item. At least there are plans to release two courts to the Marketplace for free.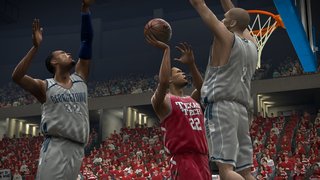 March Madness Bracket Pack (250 MS points=$3.13): Released prior to the NCAA tournament after the seedings had been announced, the pack included the full 65 team bracket, the official Final Four court, and updated rosters and ratings. A nice overall package for the price and it showed a good way that a game could capatalize on events later in their seasons in ways that couldn't be done before.
If an addition via downloadable content adds to the enjoyment or the longevity of a game then that is mutually a good thing for both the consumer and the companies. Its nice to have all the options available so that there are different ways to play the games depending on preferences, and there are new ways to keep or revive interest in them at a later date. If the Madden downloadable stadium got someone to pick up the game and play it for a handful of hours when they wouldn't have otherwise, that is worth it to them and it extends the life of the game. That squeezes even more value out of their initial purchase. As long as paid content isn't hurting those who choose not to purchase it or giving an advantage to those who do, the system seems to be very promising and has a lot of potential for the future.
Ultimately each individual will have their own set of determining factors on whether or not certain downloadable content is valuable to them. However completely dismissing all downloadable content out of hand is as bad as those who will buy up anything that is offered. Companies will adapt to what the marketplace accepts and supports. It seems that after an intial period of discontent, things have begun to iron themselves out. It should be interesting to see what new ideas come from the next round of sports titles to be released this summer.
Thanks to Jacob Tasker for the topic suggestion.