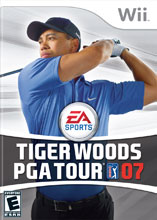 The Orlando Sentinel reported today that the EA Sports Tiger Woods franchise will be moving from the Redwood City studio in California to the Florida based Tiburon studio.
The local studio's heft continued to grow Tuesday with the announcement that the Tiger Woods PGA Tour video-game series has been shifted to Tiburon from an EA site in California.

"It makes sense for us to have the franchise here," said Steve Chiang, EA Tiburon's general manager and one of the original studio's three founders in 1994.

"Florida is a hotbed of golf, NCAA and NFL football, and the PGA's headquarters is in Ponte Vedra," Chiang said. "Of course, one of Tiger's homes is here, too."
It appears that EA has decided to put an increased effort into this franchise, and it could also be taking a different focus or direction based on this news. After a couple years with only mild reaction from consumers and a stale feel overall due to little innovation, this could only mean good things for the future of the series.