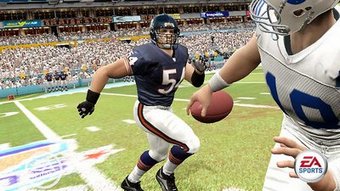 ESPN's videogame site now features a piece presenting nine potential candidates with odds on their likelihood of being the cover athelete for Madden 08.
The players/odds are:
Peyton Manning 7-2, Tom Brady 5-1, Chad Johnson 8-1, LaDanian Tomlinson 9-1, Reggie Bush 10-1, Vince Young 12-1, Larry Johnson 15-1, Brian Urlacher 20-1, Devin Hester 100-1.
For the sake of this article, lets assume that ESPN has inside knowledge of who has been chosen to be on the cover this year and that person is within this group. What could we gather from this set of candidates?
Most of the players fit in as those who have been widely suggested as possibilities. One really stands out to me though as someone who made it in to this article who might not have otherwise.

Brian Urlacher is the only defensive player on this list. If the game needed a defensive representative, another LB seemed unlikely since the same position was represented by Ray Lewis in 2005. He is the only defensive player to make the cover, so if they were going to go back to defense would they choose another player from that same position? Urlacher does have some good marketing potential, and he comes from the losing Super Bowl team which could be seen as either a coincidence or a trend (McNabb, Alexander).
On the other hand, having 7/9 players being from the offensive side of the ball could suggest an offensive centric new theme or feature to 08. Vince Young appears to be the silhouette on the cover they released, although that has not represented the player or even the correct position in the past.
Three QBs, three RBs, and only one WR. Is it a sign that it's one of the players from a position heavily represented in this list? Or is it a sign that one of the lone guys was inserted in the list because they are the chosen one?
Of the four players I suggested a while back, only Devin Hester is included in the group featured by ESPN. Marvin Harrison, Jason Taylor, and Champ Bailey may not be in the running. Bailey specifically was a surprise to see excluded from a list such as this.
The speculation will continue until the days leading up to the draft which is when we'll find out who the cover athlete will be.