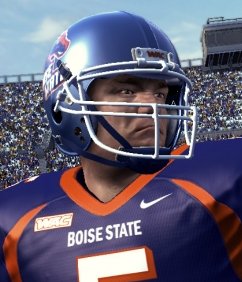 TeamXbox and Gamespot both posted articles presenting the first information on NCAA Football 08 as the clock struck Midnight PT last night. Some of the main points of interest are recapped below:
Lead by Example: Expanding on the 'Impact Players' this will allow any player on the field to influence their own play as well as the team's by succeeding on the field. The better an individual does, the more confidence they will gain. No longer is that restricted to only the few impact players on the team. It also looks to reward user controlled moments as opposed to those done by CPU controlled players.
Video Highlights & Screenshots: As discussed in the news about Tiger Woods 08's GamerNet, user created content is huge with examples such as MySpace and Youtube leading the way. After a big response to the screenshot feature in NCAA 07 where a process to transfer those screens to the PC was figured out, EA will be taking the idea to the next level. The game will record every play (in shorter quarter length games) or the big plays (in longer quarter lengths). You can then take those replays and/or screenshots and upload them on to Xbox Live for others to view.
Campus Legend Mode: This time around, you'll control only your specific player and the camera angles will be specific to the position played. You can choose to create your player or take over a current NCAA athlete. In an interesting twist, you start the mode by playing in a High School football tournament through a series of small stadiums leading up to a college stadium for the Championship (depending on which state you choose it will be a different one). Your performance in those games will factor in to the options you'll have when it comes to choosing the school you attend.
Other notes: The game will have real-time weather, either 90 or 115 (depending on which article you read) authentic stadiums which is up from 40 in NCAA 07, and a "revolutionary dynasty mode experience".
Looking over the new information, it's hard not to be excited about NCAA Football 08. For myself, the user created content specifically is very intriguing and exciting to hear about. That is something that will extend the life of the game and give people a creative way to showcase their skills. Campus Legend mode should be fun as I've always enjoyed taking on the role of a specific player. However if the camera angles are anything like the ones which killed Madden 07's Superstar mode that will be a problem.
It appears that the game will have something that appeals to everyone. The great thing is that there is even more to look forward to in the months leading up to its release.