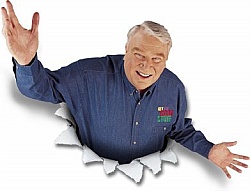 The recent media event held at EA Sports Tiburon studio has brought about the first looks at the 08 titles of NCAA Football, Nascar, and Tiger Woods. Within a recent Gamespot article it's also noted that Madden was discussed at the event and it will be a few weeks before any of that information can be revealed.
As for Madden, well, we're going to have to wait a few more weeks before we can spill the beans. Without giving anything away, though, I'm happy to report that I appreciated the theme and approach of this year's Madden demo–it was proof to me that the team behind the game is most assuredly listening to its knowledgeable and vocal fanbase. I wish I could say more but, trust me, the information is coming.
The theme, generally based on one of the main new feature additions, is something everyone looks forward to finding out about now. The last two centered on Vision and Precision (06) and Run to Daylight (07) and they were both met with mixed reaction.
Regardless of the ultimate theme, it's a good thing to hear that the impression coming out of the media event is that EA is listening to the fans with this year's titles. It looks like there is a lot to look forward to in the coming months leading up to their releases.