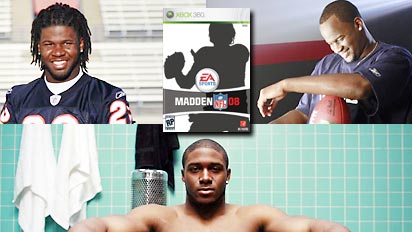 ESPN has posted a "Clues to the Cover" article, which offers more speculation as to who'll be on the cover of Madden NFL 08. Of course the news has already broken that Vince Young is the one that has been chosen, however something very interesting is mentioned within the article that everyone should take notice of.
We know that Devin Hester, Chicago return-man extraordinaire, is the first player to ever achieve the maximum 100 Speed Rating in the game, and we've heard that Hester joined Titans QB Vince Young and New Orleans RB Reggie Bush to film a series of Madden commercials that are slated to run during the Draft.
So Reggie Bush and Devin Hester are joining Vince Young to help promote the game. What do these guys have in common?
All three are coming off their rookie season and they were seen as explosive, game breaking players.
Is this a sign of the theme or a certain feature that will be showcased? It's safe to say that having those three involved together is more than a coincidence.