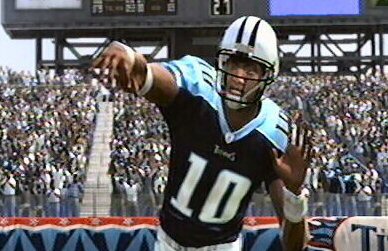 Taking a look at the decision to put Vince Young on the cover of Madden NFL 08, initially I figured the reaction would be split and it has been. He is an exciting player that helped lead his team to wins but he only has the rookie year under his belt and his numbers paled in comparison to some other stars.
After becoming the starter for the 0-3 Titans the team turned the season around going 8-5 from then on and challenging for a playoff birth. He had 12 TD passes and 13 INTs with a 66.7 QB rating but also rushed for 7 TDs. He helped the Titans to multiple come from behind victories and a stretch of 6 straight wins which ended on the final weekend of the season. Honors included the Offensive Rookie of the Year and a Pro Bowl selection.
He didn't seem to be regarded as one of the favorites for the cover of Madden this year. Just at QB there are several who put up better numbers or had more team success. However Young brought a level of excitement and interest last season that maybe was only matched by fellow rookie Reggie Bush.
Interestingly this likely means that the cover athlete hasn't been chosen to showcase a specific feature to their position. That was recently done for QBs with the 'Vision Cone' in 2006. It seems that this year it may be more along the lines of a general theme that Young can help represent. A good example of that is EA giving Jared Zabransky the cover of NCAA Football 08 more on the merits of what the team accomplished than on his personal achievements.
This decision has taken many people back to remembering the year of Michael Vick as Madden 2004 is arguably held as the best version of the game to date. That year had a certain element of excitement and pure fun that has been lacking since. Hopefully this is a sign that Young has been picked to help recapture some of that.
{democracy:2}