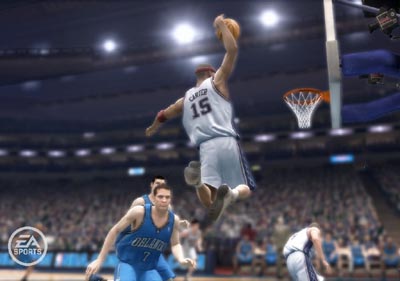 IGN has posted up an interview with EA Sports NBA Live 08 Producer Brian Ulrich. The intention of the interview was to present the direction that the franchise is headed, not necessarily reveal new features. The build of the game was at a very early point in development, and a majority of the time was spent simply discussing some of the problems found in Live 07 and what the team was doing to correct them.
Some noteable information to come out of the interview:
The game will run at 60fps
The exaggerated shot arc from 07 is fixed
Rebounding is much improved
Overall focus is on creating a realistic and fun 5 on 5 gameplay experience
Essentially it appears that the NBA Live 08 team is taking the same route that the MLB 2K7 team took this year. Concentrating first on the most important thing, the gameplay, in order to establish the title for not only this year but beyond. MLB 2K was coming off a very poor release, and the consumer base has shown that they can be patient if they feel that a series is headed in the right direction. MLB 2K7 has sold well and has been received rather favorably. NBA Live 08 has the potential to do the same thing this year.
EA Canada will be hosting a media day in early May which I'll be attending. More news on a handful of titles including NBA Live 08 should make its way out sometime soon thereafter.