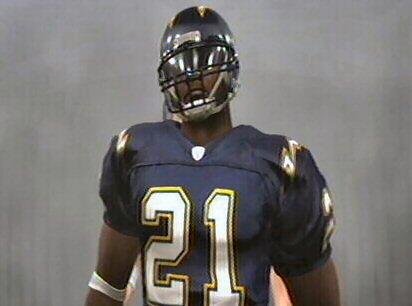 CNBC's Darren Rovell reports that Chargers RB LaDainian Tomlinson received the intial offer from EA Sports to appear on the cover of Madden NFL 08.
Multiple industry sources have told me that Tomlinson, in fact, was asked of his interest, was presented with an offer, and told Electronic Arts he was not interested. Tomlinson's turning down of Electronic Arts, we're told, doesn't have much to do with the highly publicized curse, which has been attributed to the recent misfortune of Michael Vick, Donovan McNabb and Shaun Alexander. It has more to do with the fact that the people at Electronic Arts know that, for many, their cover is seen as the "Wheaties box endorsement" — in that athletes are usually so honored they are willing to do it for less than market value. Tomlinson wasn't.

The deal usually pays the cover athlete $100,000 to $200,000 and requires multiple appearances to pump up the game. Since the Madden game sort of sells itself, the athlete on the cover doesn't really matter that much, but expect more NFL stars to turn down the cover in the future, not because of the curse, but because the price is just too low. (via Deadspin)
This has also been confirmed by Tomlinson's business manager LaMar Andrews (via San Diego Union Tribune) 
It's interesting to hear about the business side to the cover decision. EA doesn't need a particular player to sell the game, and in most cases it was assumed that the players were more interested in the honor that came with being selected for the cover than any monetary compensation that came along with it. In the end whatever the cover athletes are paid it is going to pale in comparison to the money they make in their contracts as well as other endorsements.
This is also another clue as to the possible theme or main feature added to Madden 08. In the past several years the cover athlete has directly represented that. Knowing that the first choice for the cover was a runningback but the next option EA turned to was a quarterback, it adds another hint that it may not be the case this year. Once you also consider the commercial campaign that will include Reggie Bush and Devin Hester, it's looking more and more like it may just be an overall theme that Vince Young fits into rather than a QB specific feature.