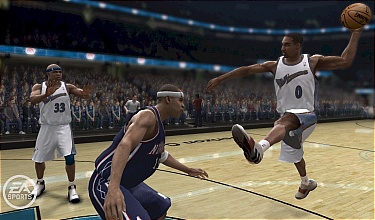 Edit 4/27: Gilbert Arenas revealed as the NBA Live 08 cover athlete. Click here to read the article.
With the NCAA Football 08 and Madden NFL 08 cover announcements now out of the way, the next one on the horizon is finding out who will capture the honor of the NBA Live 08 cover.
The first step to narrowing down the candidates is eliminate those players who may be considered based on their performace this past season but were previously on the cover of the Live series or currently representing a competing product. For Live Tracy McGrady (07), Dwyane Wade (06), Carmelo Anthony (2005), Vince Carter (2004), Jason Kidd (2003), Kevin Garnett (2001), Tim Duncan (2000). Then there are Shaquille O'Neal (2K6, 2K7), Ben Wallace (2K5), Allen Iverson (2K-2K4), Kobe Bryant (SCEA NBA 0x). Also on an individual note, Steve Nash has turned down the cover for both NBA Live and NBA 2K in the past. All those players can be scratched off the list.
The next thing is to look over the statistics to see who had the numbers this season to at least merit consideration. Dirk Nowitzki, Gilbert Arenas, Lebron James, Chris Bosh, and Amare Stoudemire had big seasons and played in the majority of games. The NBA Live series has a history of selecting young exciting players. Out of this group who has the best shot at the cover?
Arenas had a huge year, not only represented by his numbers and multiple game winning shots, but also from a marketing standpoint. He has become one of the more popular and recognizeable players in the league. He has a quirky unique personality which sets him apart from the others. Unfortunately his season ended early due to a knee injury, but his blend of on-court performance and off-court exposure may make Agent 0 the ideal choice for the cover.
Lebron James: 27.3 PPG, 6.7 RPG, 6.0 APG
Probably the most widely marketed player in the NBA today, James represents the image the NBA wants to portray. You're likely to see James in more commercials than any other player, and his goal is to become a worldwide commodity. He does have the reputation of failing in the clutch and taking a step back from his 05-06 season, but it seems unlikely that would keep EA from putting him on the cover. Also interestingly from the 2003 draft that Lebron was selected #1, Carmelo and Wade have both already been on the cover.
Chris Bosh: 22.6 PPG, 10.7 RPG, 2.5 APG
Bosh came from the same 2003 class as Lebron, Carmelo, and Wade. He rounds out that big four that was selected at the top (it's safe to say Darko Milicic has no chance at the cover). Bosh helped lead the Raptors back into the playoffs this season, but playing for Toronto ultimately makes him a little less appealing. That didn't stop EA from selecting Vince Carter in 2004 however. He isn't very vocal and doesn't have a familiar face that the others in this group do at this point in his career and that goes against him here.
Nowitzki may end up winning the MVP award, which would certainly boost his stock. However he is a foreigner and was actually on the cover of German release of NBA Live 07. That may not exclude him as a possibility for 08, however it does seem to hurt his chances. He would be tougher to utilize marketing wise, and he isn't exactly known for having an outgoing personality.
After he missed most of the 05-06 season due to his knee injury, Amare came back and played in all 82 games this year. He is an exciting player to watch, but being overshadowed by his teammate Steve Nash makes him a longshot candidate.
Look for the NBA Live 08 cover athlete to be either Gilbert Arenas or Lebron James. Both of them would make for a great fit and represent EA Sports and the NBA well. Really outside of those two, every other possibility seems to be on a completely lower tier in terms of popularity, performance, or marketability. Arenas and James offer the entire package.