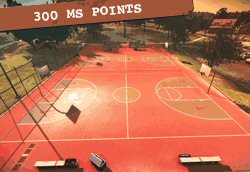 Downloadable content was a topic of discussion for NBA Street: Homecourt even before it was released. Some was planned to be available soon after release of the game, while more additions were planned for farther on down the line. Later it was revealed the downloadable content would be exclusive to the Xbox 360 version of the game.
However now after two months the only things that have made their way to the Xbox Live Marketplace are gamerpics and themes. The official website for the game still displays the message "New Xbox 360 Downloadable Content Coming Soon".
I was able to get in touch with EA Sports to find out the status of the content. There was an external delay that pushed the releases back. While there is no date that is being targeted, the content is still going to make its way out at some point.
Considering the amount of detail that went into the courts in the game, I'm looking forward to trying the new ones out. Still it's disappointing to have such a long wait for the extra content. Last time that happened EA ended up giving out the NCAA Football 07 and Madden 07 alternate jerseys for free. I wouldn't expect that to be the case this time however.