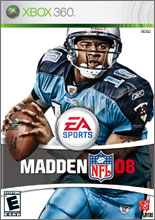 The NFL Draft represents the unofficial start to the new "Madden season". What is there to expect over the coming days?
The first commercials for Madden 08 were supposedly going to appear first during the draft. They have started airing early on ESPN today. This year there is a series of them featuring cover athlete Vince Young, as well as Reggie Bush and Devin Hester.
With what has become a tradition on draft day, expect screenshots of the top draftees (probably all the first rounders) in their team's uniforms. They likely will be added to the official Madden website shortly after each pick is announced.
At this point the official site for Madden is essentially just a placeholder. With the wallpapers of every team having been released, look for the full website to go live any time now.
The first looks at the game from media sites will be arriving shortly after the draft, possibly even as early as Monday April 30th or Tuesday May 1st.