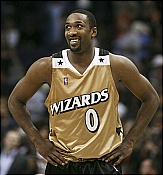 Washington Wizards guard Gilbert Arenas has been chosen as the cover athlete for EA Sports NBA Live 08 according to the Washington Times.
Arenas had a huge season averaging 26.5 PPG, 6 APG, and 4.6 RPG including a flair for dramatic game winning shots. He began to see increased exposure due to his outgoing and unique personality. Unfortunately his season ended early due to a knee injury that caused him to miss out on the playoffs.
Lebron James was the other consideration, however EA ultimately chose to go with "Agent Zero". In the breakdown of the top candidates for the cover posted on Monday, it was clear that Arenas and James stood out from the rest of the pack and it seemed likely that one of them would be chosen.
The official announcement from EA could come as soon as this afternoon.