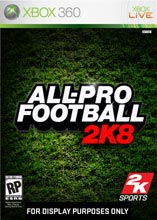 IGN has released more details on All-Pro Football 2K8. The entire article can be found here. For a recap of the main points, see below.
-A video featuring Jerry Rice was shown to the media in attendance. It displayed some of the features of the game as well as some of the stadiums and their larger than life style themes.

-Customization will be a big part of the game. It will not allow for the recreation of the NFL, however team names, cities, and uniforms will be customizable.

-Teams will be made up of a mixture of Legends and generic players. The ratio between the two was not mentioned.

-There will be a Season mode. It was already known that there would be no Franchise mode.

-Player ratings will remain static over the course of the season

-"Will ship" with over 240 legendary players. Specifically using the term "ship" suggests that more legends may be made available via downloadable content.
Outside of the stadiums which sound a little ridiculous (giant Cowboys???) the game appears to have a good deal of promise. The lack of franchise mode is still disappointing, and the excuse given as to why is really weak. How well this game ultimately comes together is the question. At this point it is impossible to gauge.
Look for that Jerry Rice trailer to be released in the near future.