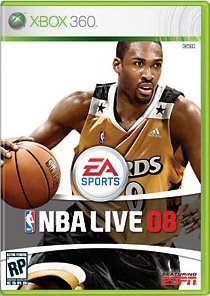 Recently I was invited to visit the EA Canada studio in Burnaby BC to check out some of the titles that are currently being worked on for release later this year. Granted, the builds are at a very early point in development and EA isn't revealing all the details on them, however it offers a great opportunity to see the direction that they are headed and the focus that is going into them.
It is no secret that NBA Live 07 didn't end up being the product that the developers and consumers had hoped for. Ultimately, no matter how many new additions are made feature wise, if the gameplay is disappointing and the game isn't fun to play those things aren't going to matter.
The Producer for Next-Gen NBA Live Brian Ulrich spoke to many of the criticisms from last year as well as demonstrating what had already been done for 08. The focus is on the "10 fundamentals of basketball". Those are passing, shooting, rebounding, offense, defense, two player collisions, locomotion, ball physics, post-whistle actions, and dunks/layups. From what was shown from the build (which was described to be around 35% complete) it was readily apparent that the problems of year's past were being addressed. Those aspects of the gameplay were already greatly improved despite being far from complete. While the core gameplay is the focus this year, there still will be new additions to the game, however EA is not speaking about what those things might be just yet.
As with many of the upcoming EA Sports titles, NBA Live 08 will run at 60fps. For anyone who has played NBA Street: Homecourt, it is easy to understand how much that can improve the overall experience. Really you have to play a sports title at 60fps to grasp how much better the games play because of it. 60fps won't make the game great on its own, but it will make a good game that much better.
Player movement will be much more realistic this season. Not only will that be the case in obvious ways such as how players run or interact, but will be seen with other things such as how they follow-through on passes, how they go up for rebounds, and transition through different situations in the game such as running down the court after a made basket.

Player interaction is one of the strengths being worked towards. This can be seen in situations like working for position in the low post or driving to the lane and getting bumped off the desired path to the basket. Anyone who watched the Warriors-Mavericks series saw how Baron Davis drove to the hoop on a consistent basis. Many times he would draw contact on the way in. Sometimes it would force him back, sometimes it would draw a foul, and other times he would be able to get past it. Those potential outcomes will all be there based on the situation.Specific player collisions were also discussed as an important way that 07 and 08 will be differentiated. While we only saw a limited number of them (most were not included in the build) they are going to completely change the feel of the game and take the realism to another level. There will be ground-to-ground, ground-to-air, and air-to-air collision animations.
A great deal of attention was paid to adding a new camera system and refining the optional camera angles. The one we were shown is going to be the default. It is more of a broadcast angle, which at first concerned me slightly because personally I've never really found the broadcast style to be a good one for basketball games. Yet this one seemed to work for some reason that I wasn't really able to break down to a single reason, it just looked right. You're able to see the action and judge the distance and passing angles well. News about the improved cameras should be a welcome one to many people out there as that has been a common complaint for a while now.
Live 07 featured signature shows, but because of a generic early or late release animation that was triggered when the timing of the shot was off, they weren't seen very often. That won't be the case now as each player will have their own signature shots regardless of the timing of the release.

After a year of experimenting with separate buttons for dunks and layups, Ea has gone back to putting them together and letting the game decide the best way to go at the hoop based on the circumstances. Essentially the feeling was that the majority of people never utilized the layup button, instead attempting dunks which turned the game into a more arcade feeling experience. I actually liked breaking them apart as it added more strategy by making the user decide which was the best thing to go for. Despite that, the reasoning behind the change back is understandable.It is important to note the overall impression I came away with was that the game will have an open and fun feel to it while still maintaining the realism that fans would expect. You won't get locked into animations, even though they are much shorter now you can break out of them at any time. You will always be in control. One of the most frustrating feelings in a sports game is one of a lack of control or feeling like the game is playing itself, and that appears to be a thing of the past. It goes to the technology used in NBA Street: Homecourt, which will change the way EA Sports titles play for good.
It appears that even in this early state NBA Live 08 for the Xbox 360/PS3 is shaping up quite well. Knowing that EA is aware of the criticisms from last year and are working intensely to fix those core aspects of basketball, all the while making the game more enjoyable to play, is really what anyone would hope for at this point.